Emerging from a cold, dreary winter into the warmth of spring days entices people to think of their garden and what might be good to occupy the longer spring and summer days.
Gardening can offer a myriad of health benefits for people with disabilities and seniors by providing exercise, friendships, stimulation and relaxation. With some planning and consideration, an accessible, productive and pleasant garden can be developed.
Garden structures and equipment need to be carefully designed and chosen to accommodate people with disabilities. Raised containers and vertical gardens are popular options to make a garden area more accessible. Older people or those with back and posture problems may also find these types of garden set-ups appealing.

Benefits of Gardening for People with Disabilities
For people with disabilities, gardening may assist in the development of:
Communication and social skills from being involved in groups and community activities
Depending on the gardening activity, fitness is a great physical activity.
Confidence with the acquisition of new skills and daring to try new things.
Well-being, as most often gardening, is an ideal way to relax and reduce stress levels.
Physical ability through improved motor skills.
Nutrition. Who doesn't love a freshly picked bevy of home-grown vegetables? Crunchy carrots or lettuce, sweets green peas. What a way to learn about healthy eating!
Knowledge. Most people know a little about how plants grow and that they need good soil, water and sunshine. Quite often, when a gardening project begins, and the interest is piqued, the hankering for more information starts. Gardening magazines, neighbours, friends or Google may all be drawn upon to glean additional knowledge of boosting production, diminishing pests, and harvesting a prized crop of tomatoes or turnips.
Enjoyment of life. As a leisure activity, gardening is up there as a wonderful use of time and energy. The relaxation and meditative nature of solo gardening can help a person to zone out from the stress and worry of the world. Conversely, a couple of hours with a friend, family member or support worker, where tasks and routines are shared and varied, can have all participants feeling included and cherished. A precious conversation may even develop, and many life problems may be solved.
---
Making a garden easy to use for people with disabilities
To provide people with a range of disabilities easy and safe access to their patch of garden, some modifications may be needed when planning the garden space.
Consider the following:
To avoid bending and stooping, raised garden beds can help people with physical restrictions.
When there is planting and potting to be done, tables that are wheelchair accessible provide an inclusive area.
Pots, window boxes and wheelbarrows also make gardening more accessible. They are handy when space is limited, for example, in a courtyard or on a balcony.
Retractable hanging baskets that can be moved up and down to be within easy reach and out of the way are a good alternative.
Containers on wheels that can be moved around to easily accessible positions may enhance the gardening experience.
Paths should be kept non-slip, accessible, level and clear of pot plants, ornaments and gardening tools.
Have water taps handy and place plants together according to their water needs. Have easy-to-turn levers or handles.
Store equipment in a storage area or shed so items don't become trip hazards and dangerous.
For safe and pleasant gardening, remember to have shade by either wearing a hat or locating the potting table under an umbrella or sun shelter. Sunscreen is a must in the warmer months.
Have ready access to toilets.
---

Gardening equipment for people with disabilities
People with varying disabilities can have their garden equipment adapted in many ways.
Consider the following possibilities:
Tape, foam padding, bicycle handle grips and PVC pipe can all be good items to improve the grip on handles and lengthen handles.
Specific ergonomic and enabling tools designed to reduce discomfort are now available at garden centres, hardware shops and online.
Have gloves with a sticky surface or gripper dots to make carrying pot plants safer.
Lightweight and hard-wearing tools are now more readily available than the heavy wood and metal versions from times gone by.
Consultation with an occupational therapist may make it appropriate to use splints or supports to relieve stress on the body.
---
Plant selections
Plants that have sensory and textural qualities are a good consideration when planning a garden. Sensory plants include those that have special sound, smell, taste, touch and visual qualities.
Examples of ideal sensory plants include:
Sound - bamboo, corn and grasses that rustle against each other when there is a breeze or wind.
Smell - jasmine, sweet peas, lavender, pelargoniums, native mint bush and lemon balm all have distinctive scents.
Touch - bottlebrush species, snapdragons, and succulents such as aloe vera and woolly lamb's ear all provide a variety of feels.
Taste - cherry tomatoes, carrots, rosemary, peas, strawberries and basil are all tasty plants to help tempt and motivate gardening.
Bright colours - daffodils, tulips, pansies, sunflowers, marigolds and rainbow chard all have bright and appealing colours that can pique the interest of gardeners.
---
Things to remember
Gardening is a healthy and stimulating activity that can be enjoyed by people of all abilities.
Gardening equipment and tools can be modified to suit people with disabilities.
An area can be landscaped so that garden beds are easily accessible and safe to use.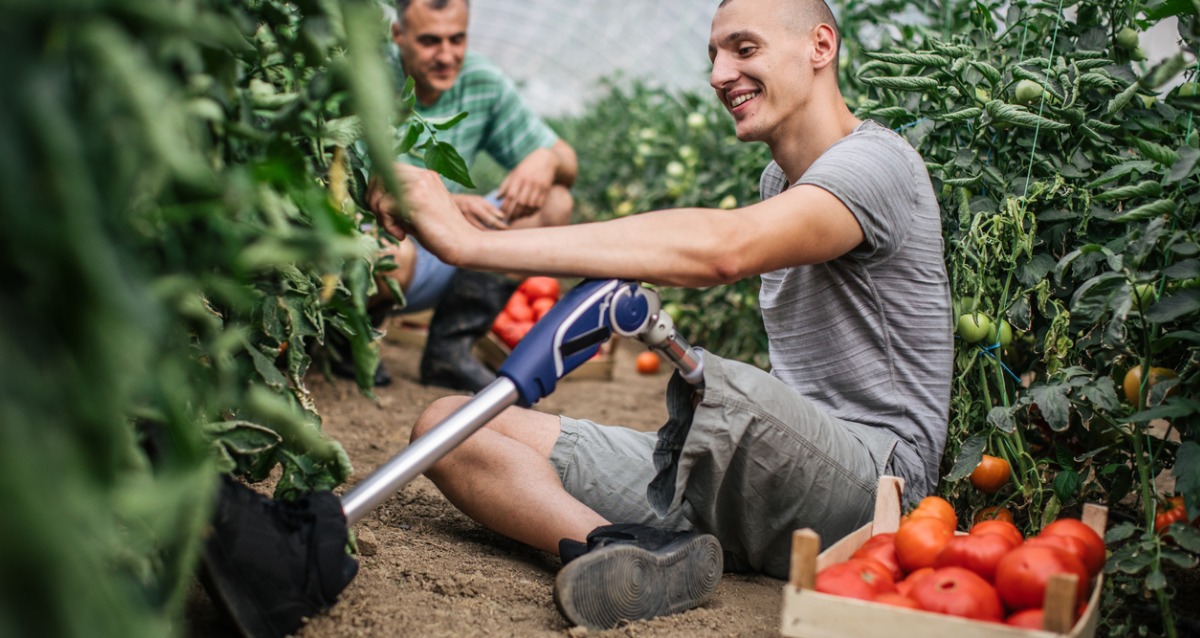 ---
Garden activities for people with disabilities
There are many gardening activities suitable for people with disability, including:
Watering - a lightweight watering can or spray attachment on the hose can improve this task
Digging, planting, and sowing - ergonomic hoes and spades can assist with these activities.
Pruning and clipping - specially designed pruners and shears can be used.
Weeding and mulching - selecting a manageable area for weeding can help to ensure positive outcomes for someone starting in gardening. A bucket or scoop may help to spread mulch.
Flower picking and arranging - a wonderful outcome for the many months of tending a garden is the choice of what flowers and in what vase or vessel to arrange them. It may also be a bouquet to be given to someone special.
Craft activities using materials from the garden, such as leaves, bark, stones, or pebbles, are ideal therapy and interesting ways to pass the time.
As with picking flowers, harvesting the produce from a garden can be an exciting adjunct to the months of preparing and tending to a garden.
Closely related to this is cooking food from the garden and sharing this bounty with family and friends. An oversupply may even be sold at a market, gifted to neighbours or swapped for other goods.
---
Where to get help and ideas
There may be a local gardening group in town or a social media site offering advice and suggestions on what to plant, how to take care of these plants, and how to cook and use the produce after it is harvested.
Some organisations providing specialised information include:
Horticultural Therapy Association of Victoria Horticultural Therapy is defined as a process of using plants and garden-related activities to promote the well-being of body, mind and spirit. Due to COVID restrictions, all events have been postponed.
Cultivating Community Cultivating Community is a Melbourne-based not-for-profit organisation creating joyful, connected communities that care for each other and the earth. The following projects are offered:
Community Food Projects
After School Cooking
Meet and Eat
High Rise
Fitzroy Food Swap
Community Compost Club
Communal Gardens
Fitzroy Community Food Centre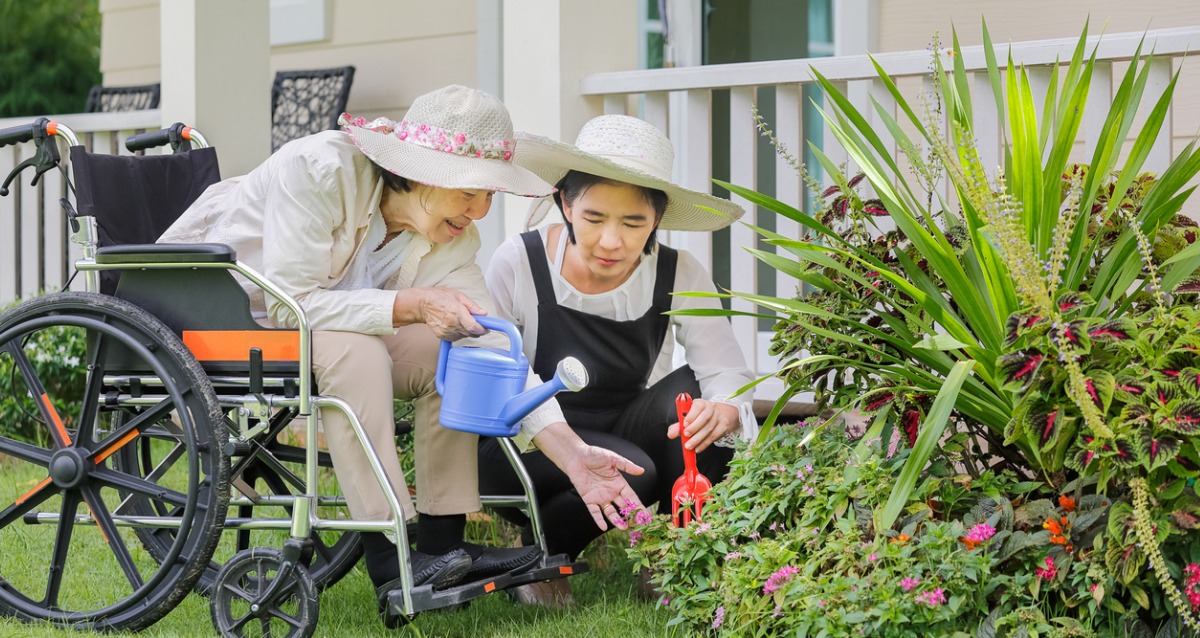 Veg Out Community Gardens St Kilda is an active and enterprising venture in Melbourne. As one of their contact people said:
Our garden welcomes all shapes and sizes of any age and we try to accommodate everyone.

We have raised gardens for people with difficulties getting down low and for those with disabilities or health issues.
Veg Out is an organic, chemical-free community garden run by volunteers. Formerly a lawn bowling green, the land Veg Out is situated on is administered by the local council and has been permanently reserved for public use since 1881. There are over 140 plots where members, friends, families and community groups can enjoy getting their hands into the soil. Many have little or no gardening experience, but they soon learn as advice, seedlings and friendships are readily shared.
A commitment to a sense of community, conservation, and organic gardening principles underpin all activities on the site.
Veg Out also runs the monthly Veg Out St Kilda Farmers' Market, which is held on the first Saturday of each month, 8 am - 1 pm, right behind Veg Out at the Peanut Farm Reserve.
Currently, in line with COVID restrictions, the gates are closed to all but plot holders caring for their gardens. Veg Out Farmers' Market is an essential food outlet and is operating under DHHS COVID-19 Stage 4 restrictions.
Television
Several television programs offer a variety of tips and hints to try in your garden. Some to consider are:
Radio
Most major cities and regional centres have a gardening program presented on the local radio station. Several choices are offered here:
Roots and Shoots -The gardening program for gardeners and non-gardeners with Sabrina Hahn and Christine Layton on Perth ABC Radio. Saturdays at 11 am.
Sabrina Hahn also presents a segment on ABC Overnights at around 4 am Tuesday mornings with Trevor Chappell.
The Saturday Gardening program for ABC Western Plains and ABC Central West NSW is hosted by Reg Kidd on Saturdays at 8:30 a.m.
Gardening Talkback in QLD. For all your gardening questions. Fridays from 10 a.m. with Inga Stunzner and Tom Wyatt.
Talkback Gardening. Broadcast from Adelaide hosts Deb Tribe and Jon Lamb present this program on Saturday mornings at 9:30 a.m.
Podcasts
A popular and portable way to obtain information about gardening, famous gardens, and gardeners is to listen to a podcast. The following selection may be ones to consider:
Social media
digability is an Instagram account that explores well-being through time spent in green spaces. It includes therapeutic horticulture, kids and young people, and people with disability.
Additional information from IDEAS is available in this article, Accessible Gardening Tips.

"No life is without difficulties, no garden is without weeds"
---
IDEAS does information so you can enjoy your garden.