Sensory play can be calming, mindful and often has the benefit of helping fine motor skills and hand-eye coordination skills, depending on the exercise. Here are some easy sensory toys you can make at home.
Sensory Bins
Start with a large container
Choose to fill the container with either wet or dry fill as a base.


Dry fill
Uncooked rice
Dried beans
Uncooked pasta
Unpopped popcorn
Sand
Cotton balls
Shredded paper
Raffia/crinkle grass
Craft feathers for a feather sensory bin
Packing peanuts or foam noodles (loose-fill packaging and cushioning material)
Beads
Leaves
Birdseed
Wet fill
Kinetic Sand
Water
Shaving cream
Choose objects to hide within the fill or to scoop and play with.


Things to hide and seek in the sensory bins
Seasonal – Tinsel, Cinnamon Sticks, non – breakable decorationsNatural objects – like smooth stones, shells, giant seed podsMagnets – letters, and a large magnet to "find" them withAnimals – plastic toy animals, farm animals, dinosaursPlastic cups and containers to tip, scoop and pour withLego or Duplo pieces, animals and peopleObjects from the kitchen like large wooden spoons, plastic biscuit cutters, trays, scoops, funnelsMarbles of different sizes or colours
You can use our Recipe for sensory rice.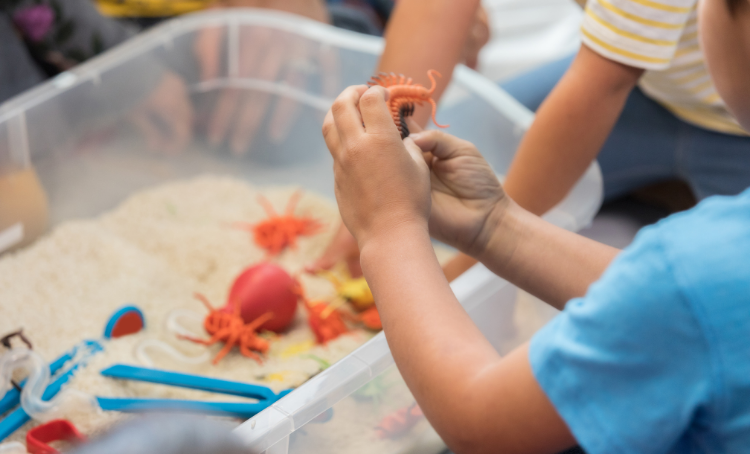 Sensory books
Also known as "Touch and Feel" books or quiet books, you can choose between fabric or card bases.
In a card or paper book
Glue or secure
Foil
Embossed foam
Flocked papers
Corrugated craft paper or cardboard
Wool or string
Glitter paper
Ribbon
Lace
Felt
Chalkboard paint a page
In a fabric book (ask a friend that sews for help)
Felt can make a good base that you do not have to sew edges
Try bargain bins or offcut bins at fabric stores for a cheap selection of varied textures.
Faux fur
Sequins
Lace
Tulle
Velvet
Suede
Denim
Satin
Fleece
Ribbon
Felt
Buttons
Pop poms
Trimmings
Large wooden beads
Cording
Zippers
Lacing (like tying a shoelace)
Bobble fabrics
Plastic snaps or press studs
Buckles
Velcro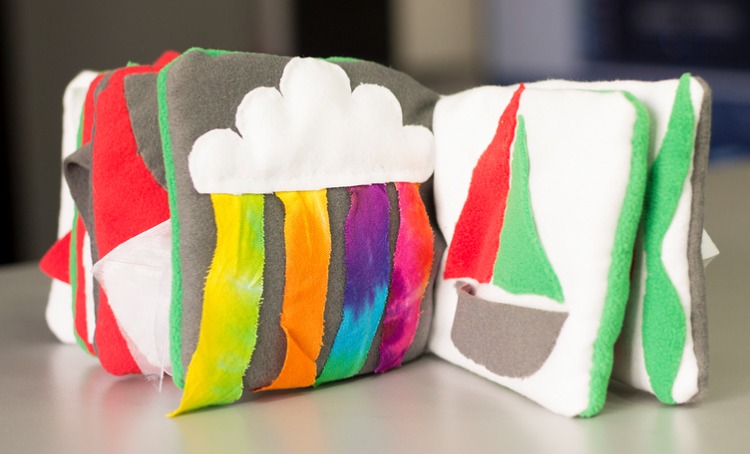 Slime or shaving foam
Shaving foam is a ready-made/ store-bought option. Playing in the bath can help keep the mess in check. Slime at your own peril.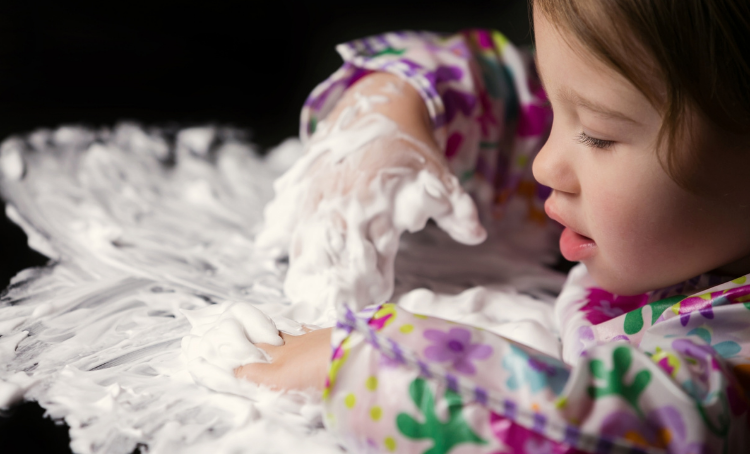 Playdough
Play-dough has benefits for fine motor, muscle strength, and manipulation skills.
Simple Playdough Recipe
Ingredients
2 cups plain flour
½ cup oil (coconut oil gives the dough a pleasant aroma)
Drops of food colouring or gel
Water
What you need
Measuring cups
Large bowl
Spoon
Small bowl
Method
Measure the flour into the large bowl. Add the oil and mix thoroughly.
In a small bowl, add a little water and drops of food colouring.
Add just enough of the water mix to the flour mix to make a soft dough.
You can add a teaspoon of spices such as cinnamon or nutmeg or a few drops of a food essence to make it smell pleasant.
Things to play with, in the dough
Rolling pins, biscuit cutters, rubber stamps, biscuit stamps, alphabet shapes, pipe cleaners, Duplo, toy cars, goggle eyes.
Montessori style - twigs and leaves, wooden shapes, shells, glass marbles, macaroni, paddle pop sticks, feathers, seedpods, raffia, wooden beads, small dowels.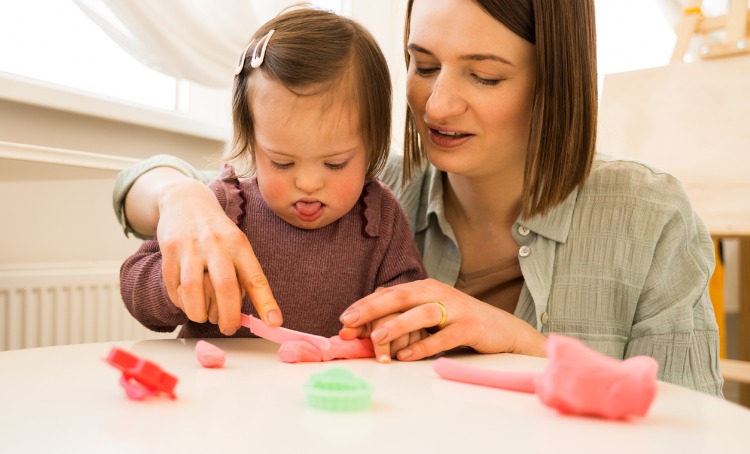 Dolls
Some dolls help with motor skills and sensory textures. In addition, weighted dolls can be a calming toy.
By Brushing hair, changing outfits, bathing dolls (when the doll is safe to immerse), making beds for, or creating tea parties for dolls, children engage in a range of imaginative play and learning while developing motor skills.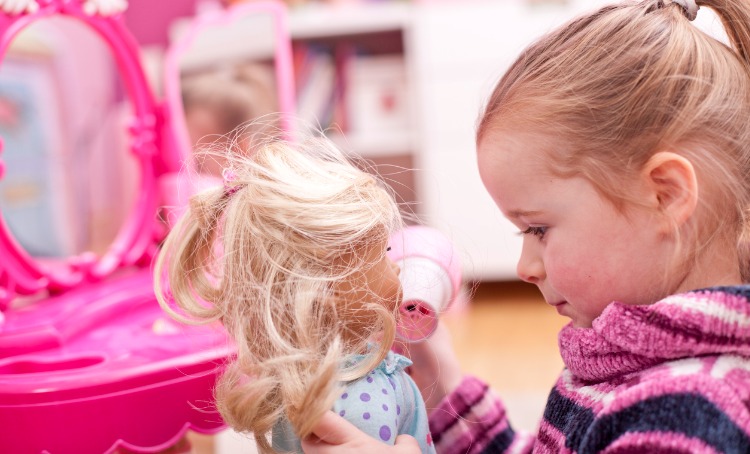 Worthy mentions
Ball pits, tunnels, and even baking recipes like Bliss balls, or biscuits, can be fun sensory activities.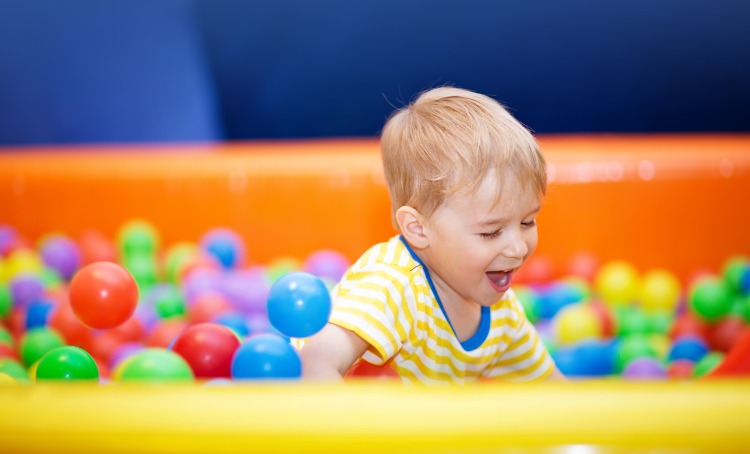 ---
IDEAS does information so you can do sensory play.