"Sensory room" is a broad term for a therapeutic space that combines a range of stimuli to help individuals to develop and engage their senses. They are designed to be a safe environment that allows the person using it to explore and connect without danger.
Typically for children, these safe spaces allow an individual to regulate themselves and renew their focus.
Benefits of a sensory room include:
Through engagement and interaction with surroundings, children learn how to interact with the world around them.
Sensory play stimulates a different area of the brain, allowing for better absorption and retention of information.
They help develop visual processing skills, as well as fine and gross motor skills.
As an area with a relaxed atmosphere, surrounded by pleasant sensations, they can be places of comfort to distressed individuals, improving focus and behaviour.


Inclusions for a sensory room:
When putting together a sensory room, try incorporating some of the following ideas and think of ways to use sight, smell, touch, sound and taste.
Something stretchy
– Silicone wristbands or resistance bands.
Different textures
– Furry, squishy, smooth, rough.
Weighted items
– Lap blankets, blankets, toys, sensory bean bags.
Visual interest
– Fairy lights or net lighting, warm-toned soft lighting, shatterproof mirror tiles.
Auditory
– Rain tubes, music, wind chimes.
Deep pressure
– Compression vests, body socks, tent with blankets and pillows.
Movement
– Exercise ball, rocking chair, hammock swing, hula hoops, kid stilts, wobble boards.
Toys
– Chew necklaces or tangle toys, scented playdough, magnetic letters, Lego walls.
Diffusers
- Such as a ceramic disc with essential oils.
Aim for a relaxed atmosphere surrounded by pleasant sensations – aroma, light effects, and different tactile effects, and always consider safety.
---
This article was originally published in the Newsletter of IDEAS Sep Oct 2019 edition. Download a copy below to read more great info! IDEAS does information so you can do life.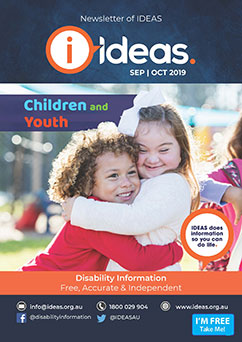 Download:

Newsletter of IDEAS Sep Oct 2019
---