To enhance the beach-going experience for people with disability, beach wheelchairs are now available at a number of new locations. They provide and improve access to the beach and ocean, with both children and adult-sized options to allow children, in particular, have access to and be included in a range of activities such as playing in the waves and exploring rock formations usually found at the ends of a beach.
Each Summer IDEAS are happy to learn of additions to accessible beach facilities as new equipment becomes available and destinations strive to be inclusive. Here is a round-up of the newest additions at Accessible Beaches as at 1/2/2020.
Malabar Beach (NSW)
Randwick City Council. Mobi Matting is installed year-round for access.
Hobsons Bay (VIC)
Beach walking frames are available to hire. These frames can traverse the hard and soft sand, allowing users to go down to the water's edge.
The frames can be collected at Altona and Williamstown Beaches on Saturdays and Sundays, from 12 pm to 5 pm throughout summer.
Walking frames and wheelchairs are free to hire and bookings are essential. Contact Council's Social Planning Team on 03 9932 1000 or This email address is being protected from spambots. You need JavaScript enabled to view it.. Hobsons Bay City Council website lists all the accessible facilities available in their area.
Bondi (NSW)
Bondi Beach is the latest beach to improve on accessibility.
The previously accessible promenade and ramp access now have added improvements of portable beach access matting. The matting is at the Northern end of the beach, near Wally Weeks Children's Pool.
Beach access matting is rolled out, weather and surf permitting, on Thursday and Saturdays from 8.30 am – 2 pm.
Beach wheelchairs must be prebooked on 02 9083 8400, or through email on This email address is being protected from spambots. You need JavaScript enabled to view it..


Mobility parking spaces are on the Northern end of the beach at Queen Elizabeth Drive, near Bondi Pavillion, Ramsgate Ave close to the accessible and ambulant toilets.
An accessible shower is located at Bondi Pavillion - obtain a MLAK key from staff at the Pavillion.
Busselton and Dunsborough (WA)
Have upgraded Beach Trekker chairs which are now available through Quindalup Sea Rescue Centre via the Dunsborough Visitor Centre on 08 9755 3517 and Equinox Café on 08 9752 4641. Busselton Foreshore, Bunker bay and Old Dunsborough Beach have beach access ramps installed.
Gold Coast
(QLD)
Now offer wheelchair access at Burleigh Heads, Kurrawa Beach, Nobby Beach, North Burleigh, Southport, Southport Broadwater Parklands (Aqua Splash), Tallebudgera, and Tallebudgera Creek. The City of Gold Coast information on accessible beaches website lists further details on bookings and facilities.
Henley Beach
(SA)
Has added to facilities with a new Changing Places facility, including adult changing space. Beach matting will now be available 24 hours a day and free hire of beach wheelchairs for half days. Details on Accessibility are available through City of Charles Sturt.
Melbourne (VIC)
Port Melbourne and St Kilda beaches both have accessibility facilities. To help remove some of the barriers people face on beaches, and let everyone enjoy the famous St Kilda foreshore, beach matting and beach wheelchairs are available over the summer months. A full Changing Places facility is available at the St Kilda Lifesaving Club. More information on Accessible beaches from the City of Port Phillip Council here.
Lorne
(VIC)
Approx 50m of Mobi-matting during Summer 24 hours per day. Outdoor shower next to toilet block that is wheelchair accessible. Free Hoist – BYO Sling, both chair and hoist can be booked at Make a Booking and are available for hours that Lifeguards patrol the beaches.
New
Beach Accessibility on the South Coast of NSW
The South Coast of NSW includes the region of Eurobodalla which extends from South Durras in the north down to TilbaTilba in the south. Within this reach, there are many beautiful beaches and pristine waterways.
The following beaches have wheelchairs available:
Batemans Bay SLSC - Clubhouse George Bass Drive, Malua Bay. One chair with smooth tyres. Phone 02 4471 2416.
Batehaven- One adult and one child chair are available for hire at Clyde View Holiday Park opposite the shopping centre at Batehaven. The chairs are also next to Corrigans Reserve where the accessible playground is located. Phone 02 44724224
Broulee Surfers SLSC - Free to hire with donations welcome. Two chairs with smooth tyres available from SLS Club southern end of Heath Street, Broulee. Phone 02 4471 6657
Moruya SLSC - Clubhouse Charles Moffitt Drive, Moruya Heads Phone: 02 44742674
Narooma SLSC  - Clubhouse Main Beach, Willcocks Avenue, Narooma 02 44761745
Tuross Beach Holiday Park - also offers a beach wheelchair. Bookings are required, please call (02) 44738236
Accessible Beaches work with local governments, Surf Life Saving Clubs, People with lived experience of disability, Non-Government Organisations, Funding programs and community stakeholders to promote accessible beaches across Australia. Their website lists a National beach directory, options to book equipment and they can also be contacted on 1300 721 328.
For other beach access information see Australian Beach Accessibility.
---
Information Sourced From
Accessible Beaches
Access Bondi - Waverley Council
Busselton and Dunsborough Beach Wheelchairs
City of Charles Sturt Accessibility
Hobsons Bay City Council Beach Walking Frames
Hobsons Bay City Council
Gold Coast Improves Beach Access
South Coast Travel Guide
---
Related articles
Australian Beach Accessibility
Four Extreme Sports to Try
Disabled Surfers Association of Australia
---
This article was originally published in the Newsletter of IDEAS Nov Dec 2019 edition.
Download a copy below to read more great info! IDEAS does information so you can do life.
Please note that updates have been made to the above information to provide you with the latest information on beaches with updated facilities, The download version is as originally published.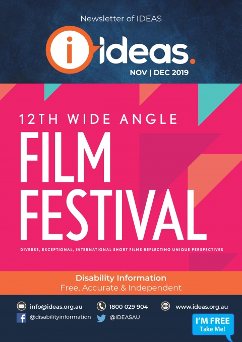 Download:

Newsletter of IDEAS Nov - Dec 2019
---
---