With 16 branches covering NSW, QLD, WA, VIC, SA, and New Zealand, the Disabled Surfers Association of Australia (DSA) began in 1986. Run entirely by volunteers who love what they do, it is the only registered charity not for profit organisation in this sector.
The DSA sets worldwide best practice for disabled surfers. It started as a partnership with Innovative Care Solutions to design the world's best beach wheelchair, the "surf n turf' all-terrain wheelchair.
Catering to anyone willing to have a go and including all classes of disabilities, the aim is to foster a renewed interest in surfing while finding friendship and support. "Smiles on dials" is their catch-cry.
The DSA promotes unique, safe and happy surfing events, and anyone, beginner or former surfer, child to senior, with any disability – ranging from asthma to paraplegia is welcome.
Yearly membership assists in the provision of insurances and special equipment such as aquatic wheelchairs, soft longboards and rash vests to get participants in the water and having a good time. All surfing equipment is supplied.
Visit the DSA website for more information on locations in which they operate and check out their events list at Disabled Surfers Events Calendar
As at March 2020 events for the remainder of the year were cancelled due to COVID19. People were encouraged to check back in at summer time for updates.
Information Sourced from Disabled Surfers Association of Australia Inc
Related Articles:
Australian Beach Accessibility
New Wheelchair beaches in Australia
---
This article was originally published in the Newsletter of IDEAS Nov Dec 2019 edition. Download a copy below to read more great info! IDEAS does information so you can do life.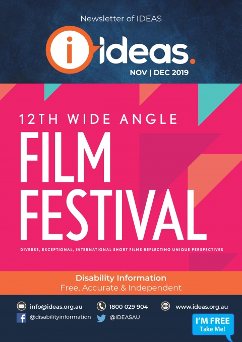 Download:

Newsletter of IDEAS Nov - Dec 2019
---