Melissa first shared her story with IDEAS power blogs in 2019. This is her narrative of how the last few years have changed for Mel.
This is Melissa Pym's story, in her words.
Her Youtube channel "Two Feathers Gallery" gives her new purpose and meaning to share her love of art and crafts with others like her for free. Despite not earning an income yet, she finds creative ways to work around the design, production, and video editing challenges the channel represents, regardless of her many disabilities with Chronic Fatigue Syndrome, Fibromyalgia and Chronic "Lyme-like" illness.
Mel describes herself as an emerging artist from Two Feathers Gallery, an artist in her own right. She creates art and makes it engaging and accessible to the disability community on any device, anywhere, anytime on YouTube. She sees her YouTube channel as her legacy with over 60 high-quality videos, and 11,000K views so far. It helps her connect, sell art, share techniques and tell personal stories. Her goal is to develop accessibility solutions for a variety of disabilities. Her videos are clear, aiming to continually improve with collaboration, feedback and research from her subscribers, with disability associations, schools, and support groups as her channel grows. Viewer interaction is encouraged. It's the only thing that gives Mel life purpose and meaning. Once the channel becomes monetized, Mel hopes in the future it will help her to pay high ongoing medical bills and rent if she is offered permanent and secure housing.
Mel is high-risk for Covid with multiple immune suppression factors. After things open up, she will still be indefinitely and severely affected by Covid. She is too high-risk to be vaccinated against Covid. She can't go back to selling her work in brick and mortar stores, markets or physical exhibitions as health risks are too high. Her ongoing health situation (and inability to be transported for over 10 years) makes marketing and selling work a challenge which Covid has seriously worsened. If possible her YouTube channel will open up new avenues and increase online presence and connections.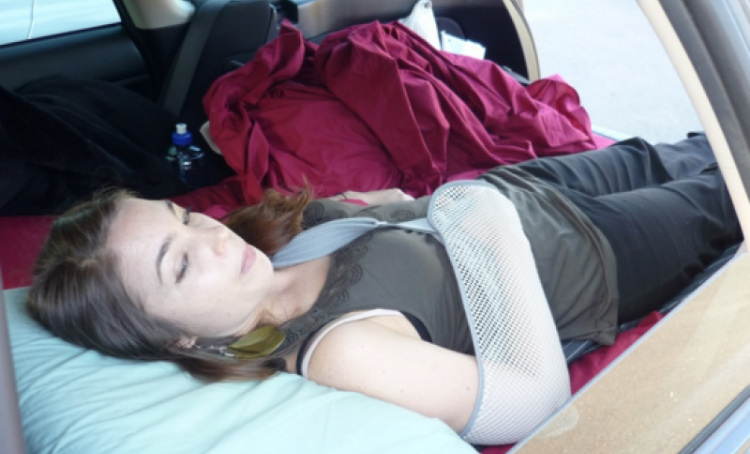 "There are many beautiful people out there who are so encouraging and really appreciate what I teach in my tutorials. It's the most amazing feeling to know that you helped to lift someone's spirits and motivate them to keep developing into the future and set goals. Art has been my greatest saviour in dealing with my own mental health issues of depression and anxiety. It is such a huge part of how I manage and cope with my life and brings me peace, joy and a willingness and feeling safe to embrace new people in my life. This is why I feel it is my mission to share this around. I really hope I can continue to inspire others to find what I did, and hold onto it tightly and see the possibilities and create art that you might never have thought was possible."
"Creating my art is never in a straight line! There is a lot of stopping and starting, research and asking for help from my carer and mentor. It is sometimes a bumpy road. It is these bumps in the road that I would like to help people with, so that accessing art is so much easier! I never know what parts of my body are going to work from day-to-day. I am mostly bedbound and have to lay 180 degrees flat, and this can last for eight to nine months. I have taken up drawing with graphite pencil lately and found it was no way near as aggravating to the chronic pain in my hands as I originally thought. I experimented with several hand, pencil and body positions, pacing strategies, setups, tools and techniques until I found a way that I could. And I can only work on them for five to ten minutes a day sometimes. I have to be patient and whenever I can't use my hands at all, I focus on researching other people's YouTube videos and try to improve both my delivery and content and design new ideas that can help others."
Once I watched an artist who had no arms paint with his mouth, having a paintbrush in his mouth, and he used a ruler and a pencil to draw with his feet, and that really, really inspired me. Also, art has taught me how to see the world through different eyes, even ordinary, everyday things like, for example, how the sunlight hits the chair becomes a really precious and beautiful moment. And this curiosity about my environment keeps developing more and more how I see light, shape, colour, line and movement in a whole new way. And that has really, really helped me being both housebound and bedbound.
'When I was well … I was a professional fire performance artist, blending belly dance with fire-eating, swords, snakes, staves and chains, to name a few. Not only was it my love, but it was also my profession and how I made a living. Dancing was my whole life. I was living my dream career until Lyme disease struck me down.'
About Mel Pym
Mel has been in the spotlight for a large part of her life, but her chronic illness and disabilities have made her feel practically invisible. Because she looks okay on the surface, hardly anyone understands how seriously ill she is.
'A lot of people don't understand that I am bedridden for 95% of the time."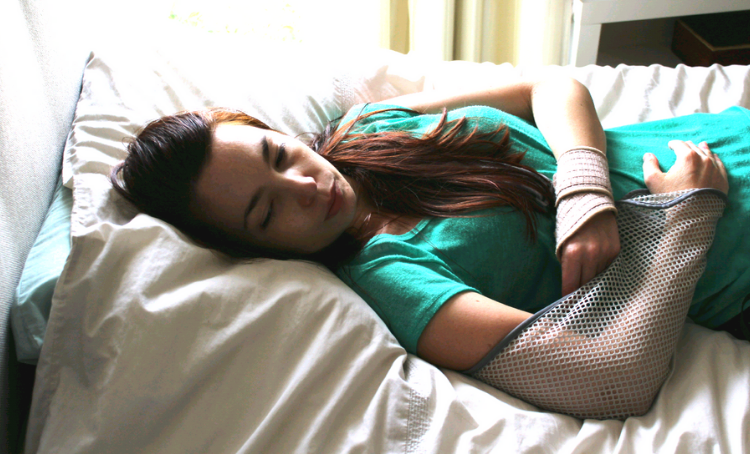 "I'm not supposed to get on the computer at all as it gives me migraines, violent muscle ticks and sometimes seizures; however, I can still get help from my carer to watch and edit the videos. It is a really time consuming and exhausting process, and so much goes into it. But I really love seeing it all come together and making it as fun as I can. Managing my communication disabilities of Laryngeal Hypersensitivity and muscle tension dysphonia in my throat is a challenge, and I do small voiceovers and join them together so that people can hear what I am saying rather than a raspy whispery voice. I also have funny voice exercises I use to try and stretch it out so I can speak for longer."
"For my future videos, I would really love to achieve my goal of presenting my story of how I painted my 1.2 metre high Ganesh painting and also polymer clay health and safety and 100% non-toxic oil painting. I'd love to hear from subscribers what they would like to know and learn and also from video editors and producers to help us deal with the workload. I only use a very old mobile phone to film, and it is hard to do any larger scaled work as the video is not clear and detailed enough on the mobile phone, and I don't have strong enough lighting. However, what is on the channel is very high quality, and I've had a lot of compliments and questions about how I actually make it look so professional with hardly any technical resources at all. I would really love to be able to include other mediums that require more expensive investment in technical equipment."
"I just finished painting a 1.2-metre painting of Ganesh (Indian God of removing Obstacles), which took over 6 years to complete. During this time, I had to paint it upside down, had long stints of being completely bedridden, and it was completed in millions of tiny sessions of painting!"
Please find pics attached (Documented with pics and video over many years) and a link to where it is on display with the full story on Gallery247: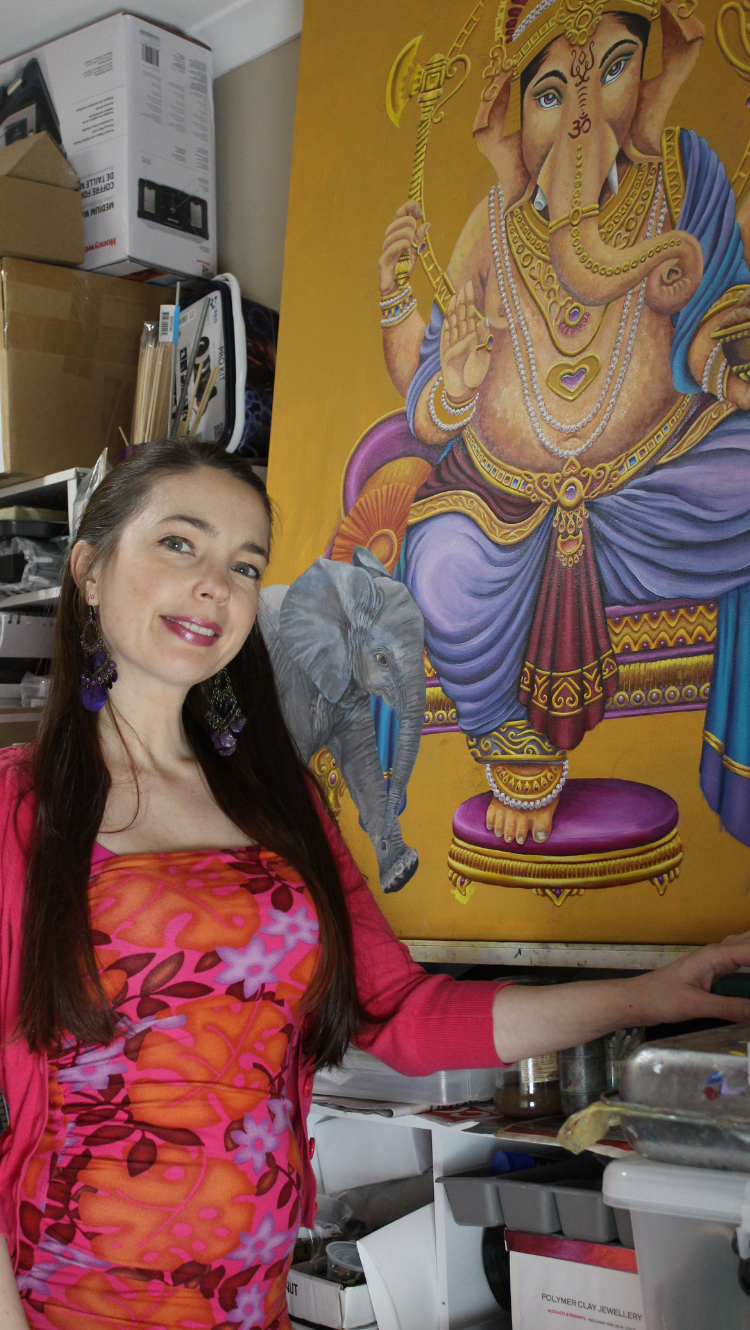 Ganesh by Melissa Pym - Search Results on "Ganesh" On View/Exhibited (gallery247.org)
Subscribe to Mel's YouTube Channel
YouTube Channel: Two Feathers Gallery - YouTube
Support Mel to reach 1000 subscribers to monetize her channel and help her keep on creating FREE tutorials for the disabled. She finds it very hard to use a computer and communicate. However, please subscribe, like and comment and let her know what you would like to learn and see on the channel? This connection and YouTube community she hopes will grow and is important to help her feel like she can make a difference in others lives and gives her purpose and meaning.
Mel has found it is difficult to stand out on YouTube. However, she hopes that the disabled community will benefit from her efforts and would also appreciate any support from the disabled/Ideas community!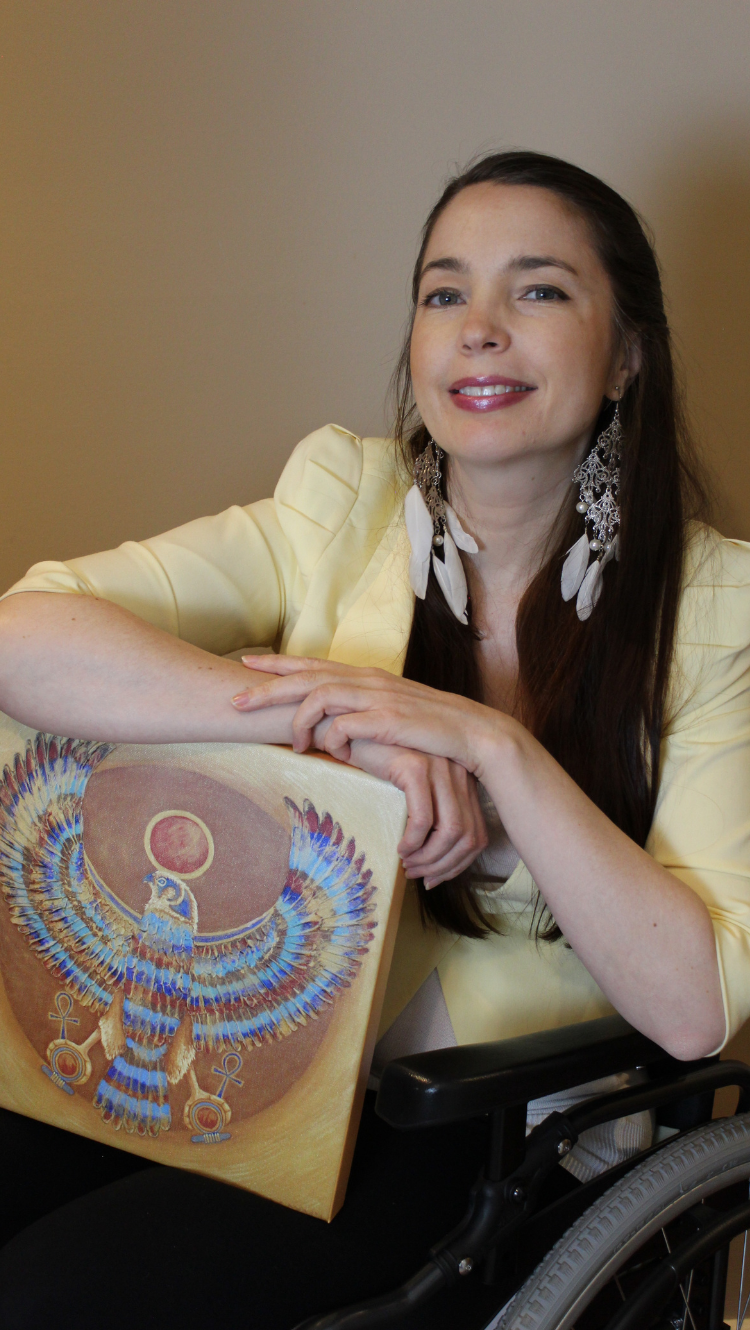 ---
Places where you can see Mel's art and jewellery
Etsy Shop:
Etsy Shop: TwoFeathersGalleryAU | Etsy
Gallery 247: Ganesh
Facebook: Two Feathers Gallery - Home | Facebook
FAA (Fine Art America): Two Feathers Gallery
For more information about Lyme Disease, Mel's media stories, videos and GoFund Me campaign for treatment, please go to www.gofundme.com/savemel or www.gofundme.com/transportmel
Other Ways to contact Mel and see her work -
Instagram: instagram.com/twofeathersgalleryart
Pinterest: Two Feathers Gallery
TikTok: twofeathersgalleryart
Email: This email address is being protected from spambots. You need JavaScript enabled to view it.
---
IDEAS does information so you can do life.