Japan is remarkable in the way it marries the contradictions of modern cutting edge technology and historical cultural significance together. Distinct natural beauty, sites of ancient significance and modernity exist side by side.
Take, for example, the tranquillity and peace of zen rock gardens in Kyoto against the busyness of Tokyo's Shibuya crossing and Akihabara's sensory overload at night. If you are thinking of an accessible holiday to Japan, we have compiled some useful resources to help you.
With the 2020 Paralympics to be held in Tokyo in Summer, the city is constantly improving access and universal design. When you ask about accessibility in Japan, "Barrier – Free" is the widely accepted term for mobility access.
The Japanese have always placed importance on aesthetics, and when this comes to accessibility at cultural heritage sites, they have continued this design aesthetic to many of the major attractions. Lifts or ramps may not be obvious but discreetly blended into the architecture. Be aware that gravel paths are also common. Staff members and site volunteers will be more than happy to show you where to find the features if you are unable to identify them immediately.
Braille usage is mostly in Japanese Braille, and sign language is Japanese Sign Language. There are some audible signals at some traffic lights and announcements in major stations. Tactile flooring was invented by Seiichi Miyake in Japan in 1965 so tactile ground surface indicators are very common in modern areas of Japan.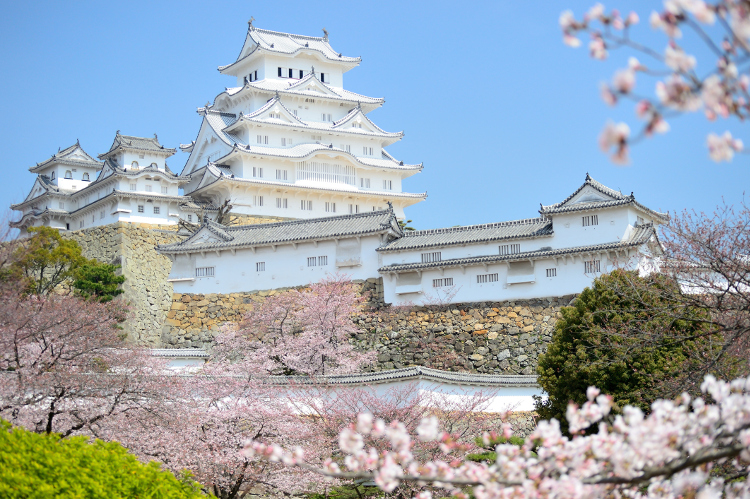 What does Japan have to offer?
Gourmet travellers will marvel at the style, taste and presentation of Japanese Cuisine. Usually a combination of a rice staple, with individual plates for different flavours. These side dishes may feature traditional vegetable pickles, miso, tempura, plates of seafood, and noodles. Green tea is served with most dishes. Foods are primarily eaten with chopsticks.
Skiers and boarders will love the depth of dry powder snow, with some of the best powder in the world at Hokkaido resorts and backcountry, and it is deep powder!
Nature lovers will find breath-taking beauty in Cherry Blossom viewing, taking a pilgrimage to Mt Fuji, or visiting Arashima bamboo grove in Kyoto, or the stark volcanic landscape of Hell Valley (Jigoku Dani) near Noboribetsu in Hokkaido.
For culture and history lovers, Japanese feudal castles, temples and shrines, including Itsukushima Shrine, Ancient Nara, Nikko, the Kinkakuji and Ginkakuji in Kyoto area, Horuji Temple and Himeji Castle are lasting examples of architecture and culture.
Unique dramatic arts and examples of cultural pastimes can be experienced through Kabuki, Noh, (Dramatic play/ dance/ theatre) Sumo or martial arts, Ikebana (flower arranging) or Tea Ceremonies.
Other modern Japanese cultural features are Anime (animated media) and Manga (comics or graphic novels), or Karaoke.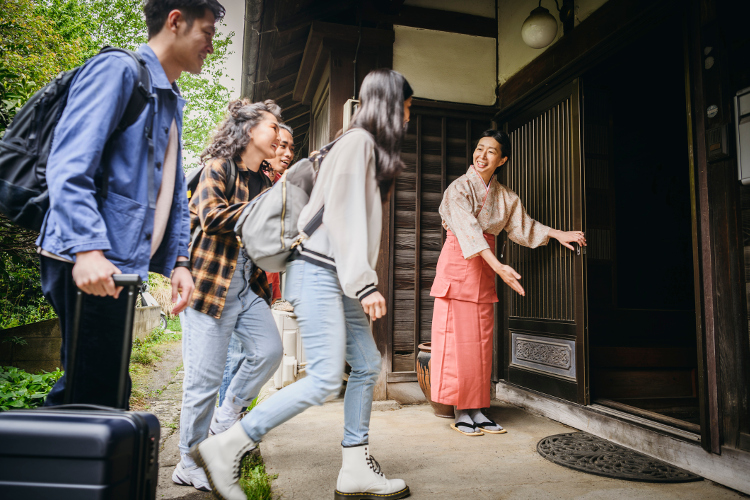 Toilets and Access
The easiest way to find an accessible toilet in Japan is through the check a toilet app. The app is in English and is available in both Android and iOS. More information is available at Check a Toilet App. In larger cities, remember to take into account elevator wait times when out and about. Toilets in Japan range from squat toilets, western-style toilets and modern high-tech western toilets with features such as heated seats- some instructions may only be in Japanese.
Traditional Japanese Inns, called Ryokan, tea rooms, and also traditional restaurants usually have a raised entrance, (genkan) and may not be accessible for those with mobility needs. Meals may be eaten whilst seated on the floor in the traditional style, or at western-style tables and chairs. Floors can be tatami matting which is made from rice straw and woven sea rush and quite delicate, so shoes must be removed. Sleeping arrangements may be western-style beds or traditional futon on the floor.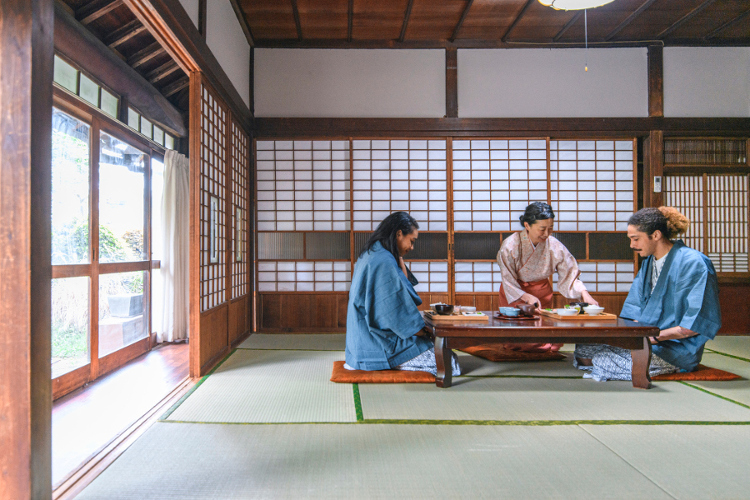 Bathing and Hot Springs
The term "onsen" means Hot Springs but is used interchangeably with bathing facilities in traditional inns. To be sure the facilities meet your requirements, it is always best to check directly. The Japan Accessible Tourism Centre has a list of accessible onsen, listed by major cities. With bathing in Japan, bathhouses may be public or private. The usual practice is to wash completely with a handheld showerhead and bucket whilst seated at a small stool. Then once completely clean to enter the bathtub. Japanese baths are usually much deeper than western baths, and quite hot. Onsen may be indoors or outdoors. They also may be volcanically heated and may have low-temperature baths to use periodically.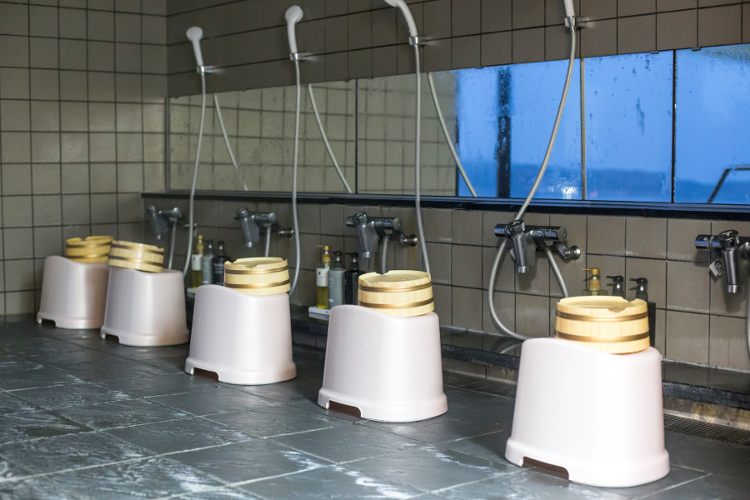 Public Transport
Public transport in major cities of Japan is one of the most efficient in the world, is clean, and runs on time. Reliance on accessible vehicles is not necessary to travel independently in the cities. The Sanriku coast in Miyagi and Iwate prefectures is again serviced by public transport since March 2019, after earthquake damage in 2011 - some areas will be by Bus Rapid Transit (BRT) and others by rail. Transfers in this area are less reliable and may involve extended waits. For information on Fukushima Prefecture and Travel, the Japan Guide has useful information. Tours of the Fukushima Disaster area are available through companies such as Japan Wonder Travel and Real Fukushima please check your access requirements can be met. The Australian Radiation Protection and Nuclear Safety Agency have released information about The Great East Japan earthquake and tsunami.
Depending on your rail travel plans there are nationwide JR nation passes, or JR regional passes. Older stations may not be accessible, so double-check this before travelling. More information on rail passes is available here and here, and the Accessible Japan website includes information on station accessibility in the notes for each attraction.
For air travel, special assistance information is available here for JAL (Japan Airlines) and ANA (All Nippon Airways)
Language
Microsoft Translator is a free app, with offline capabilities, camera translation to translate text, and multi-person conversations with split-screen for bi-lingual conversation.
Lonely Planet produces an Accessible Travel Phrasebook in PDF format that covers basic Accessibility terms in Japanese. The book is available free to download here: Lonely Planet Accessible Travel Phrasebook
Travel tips
Socks and shoes will be on display. You will often be asked to remove shoes, slippers may be provided, however, it is worth investing in new socks for the trip. Shoes should be worn in for comfort but not shabby. Slip-on shoes are much more convenient than tying laces.
The Japanese associate tattoos with criminal gangs like the Japanese mafia. If you have tattoos, you may be denied access to some places such as onsen. Small tattoos can be covered with a band-aid or bandage, so take preparations if necessary.
Vending machines selling almost anything from drink, food, both hot and cold, to umbrellas and gloves can be found in abundance – however, the coin slots on some machines may not be reachable to a wheelchair user.
Souvenirs to look out for include Green tea, traditional wooden toys, furoshiki (gift wrapping cloth), summer kimono, chopsticks, sake, rice-paper goods, and woodblock prints.
Related Articles
ACCAN Tip Sheet - Travelling overseas with a mobile phone
Top 5 Accessible Holiday Planning Tips
---
Useful Resources
Accessible Japan
Accessible Travel Japan
Lonely Planet
Japan National Tourist Organisation
Japan Guide
Inside Japan Private Journeys
Inside Japan Wheelchair Accessible Golden Route
Japan Accessible Tourism Centre Downloadable Pointing Communication Board PDF
Getting Around
Hokkaido Treasure Island Travel
Barrier-Free Okinawa
Japan Experience
---
Information Sourced from Accessible Japan, Check a Toilet App, The Japan Accessible Tourism Centre, Japan Guide, Lonely Planet, Australian Radiation Protection and Nuclear Safety Agency, Japan National Tourist Organisation
---
IDEAS does information so you can do life.