Whole cauliflowers can be bought for only a few dollars, so they make a perfectly healthy and cheap meal or side dish. Cauliflower can be an amazing accompaniment to so many meals, or even on its own with a tasty sauce and crusty bread.
The trick is to find the biggest, firmest, blemish-free one so you get your money's worth. With the addition of some oil, spices, cheese or breadcrumbs, this humble vegetable can be dressed up and made delicious.
Why cauliflower is so good for you?
There are many benefits to cauliflower in your diet. Consider the following:
it contains many nutrients including vitamin C, vitamin K, vitamin B6, folate, pantothenic acid, potassium, manganese, magnesium, phosphorus.
it is high in fibre and excellent for good gut health. Eating enough fibre may help prevent digestive conditions like constipation, diverticulitis and inflammatory bowel disease.
it is a good source of antioxidants which are beneficial for reducing inflammation and protecting against several chronic diseases.
it is a low-carb alternative to grains and legumes which is a great way to eat more veggies or follow a low-carb diet, and it is easy to add to your diet, to replace potato, rice or pasta.
---
Cauliflower 5 ways
---
Whole roasted cauliflower in olive oil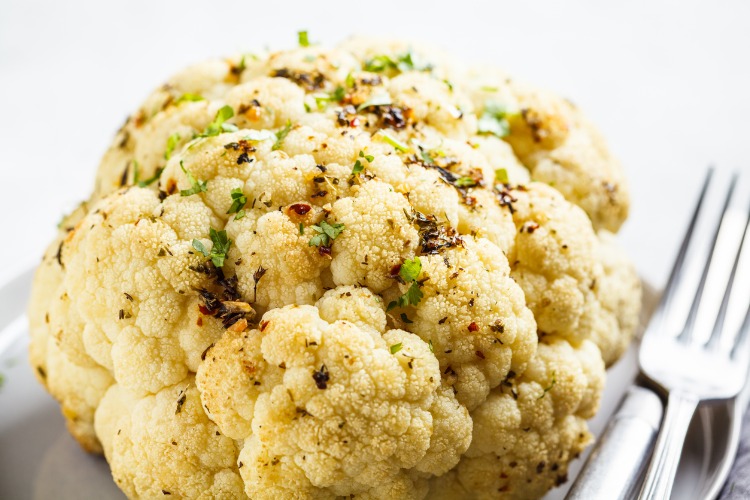 Ingredients
1 whole cauliflower (to fit in a large saucepan)
2-3 tablespoon olive oil
Salt and pepper
Spring onion to garnish
---
Method
To a large pot of boiling water add 1 teaspoon of salt and 1 whole cauliflower.
Boil 10-15 minutes then carefully lift out using tongs and drain. Alternatively, carefully take the pot to the sink and tip it over to empty the water.
Drizzle 2-3 tablespoons of olive oil over the cauliflower.
Sprinkle with salt, black pepper and massage the oil into the cauliflower.
Bake at 230c for 15-20 minutes or until golden brown.
Sprinkle with chopped spring onion to serve.
---
Baked cauliflower florets in breadcrumbs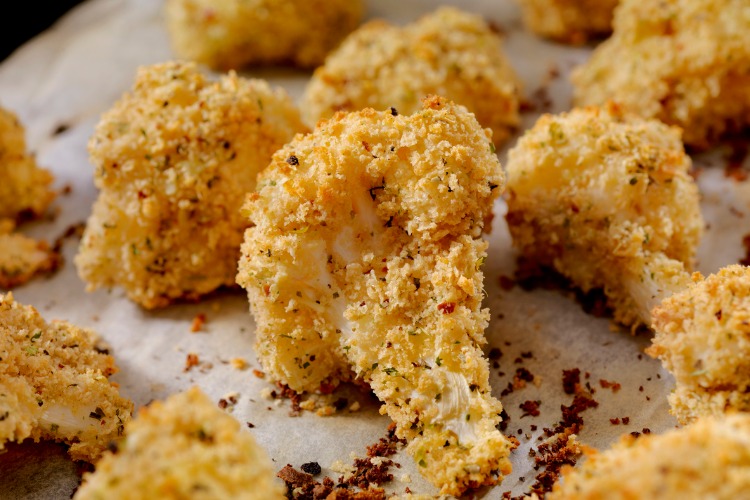 Ingredients
1 large cauliflower broken or cut into florets
1 cup breadcrumbs
1/2 cup sesame seeds
1 teaspoon salt
1/2 teaspoon black pepper
1/2 teaspoon each of garlic powder and paprika
2 eggs
---
Method
Break or cut cauliflower into florets. Add to a large pot of water and boil for 5 minutes.
Meanwhile in a bowl combine breadcrumbs, sesame seeds, salt, black pepper, garlic powder and paprika.
Break the eggs into a bowl and whisk. Dip florets into the egg mix and then coat with the breadcrumb mixture.
Place on a tray, spray with oil (or drizzle with oil) and bake in a 200c oven for 35-40 minutes. Serve with sweet chilli sauce or aioli.
Tip: If you don't have any breadcrumbs in your pantry, remember you can just whizz up a few pieces of bread (stale end pieces are the best). You can easily use gluten-free breadcrumbs or gluten-free bread to make this recipe gluten-free as well!
---
Cauliflower Cheese Balls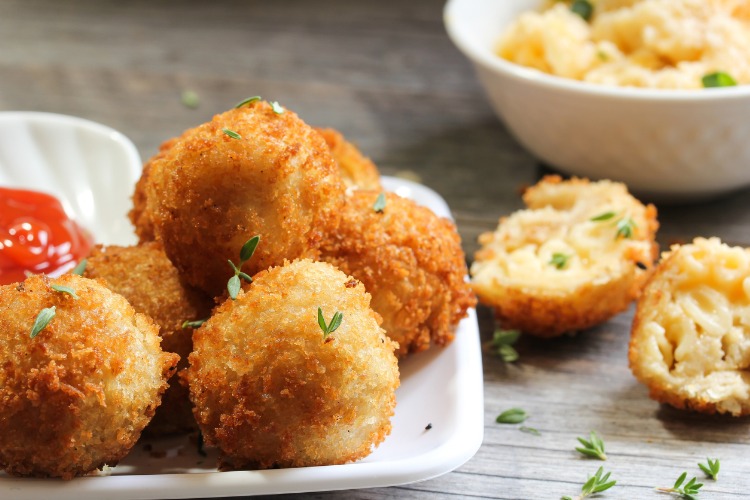 Ingredients
1 cup of shredded mozzarella
3/4 cup of parmesan
1 medium cauliflower grated
½ teaspoon each salt, pepper and nutmeg,
2 garlic cloves crushed,
2/3 cup of plain flour
1/3 cup breadcrumbs
3 eggs
2-tablespoon olive oil
---
Method
Combine the mozzarella and parmesan cheeses together.
Add the grated cauliflower, salt, pepper and nutmeg and mix until well combined.
Fold in the garlic, flour and breadcrumbs.
Whisk the eggs together with the olive oil add to the dry mixture and combine well.
Form the mixture into small balls. Place them on an oven tray and bake at 200 C for 25 minutes or until golden brown. Serve with a tasty sauce or flavoured mayonnaise.
---
Cauliflower 'rice'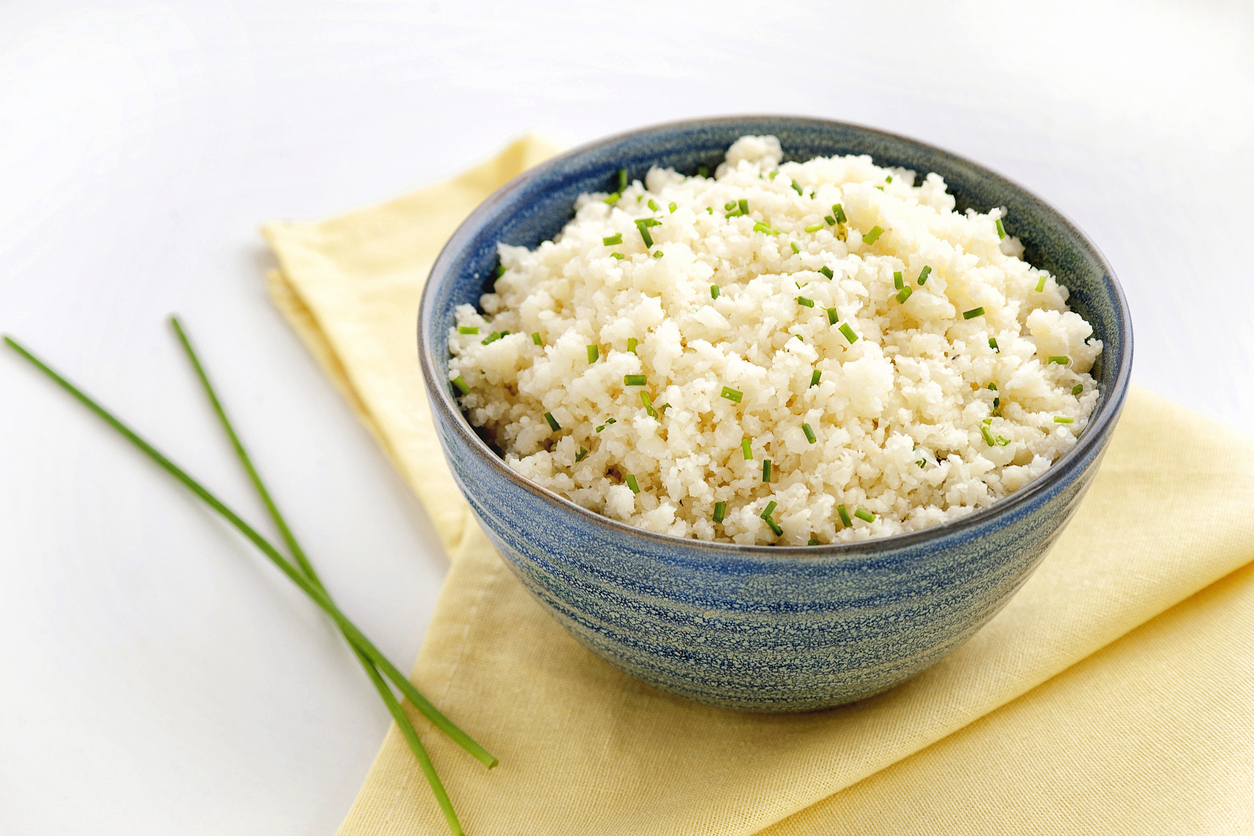 Ingredients
1 whole cauliflower
2-3 teaspoons olive oil
1 onion, finely chopped
3 garlic cloves, crushed
2 carrots, chopped
1 cup green peas
Sprig of parsley
---
Method
Break a whole cauliflower into small florets and place them in a food processor.
Pulse in 1-2 second bursts until it resembles the texture of rice or couscous. Alternatively, crush with a rolling pin to break into tiny pieces.
Heat the olive oil in a frying pan.
Add the onion and sauté until slightly golden. Add the garlic and the carrots, and cook for 5 minutes until carrots are tender.
Add the green peas and cook for a further 3 minutes.
Add the cauliflower 'rice' and mix to combine.
Cook for a further 5 minutes or until the cauliflower is soft. Garnish with the parsley and serve with a splash of soy sauce.
Top tip: Be careful not to overcook as it quickly loses the rice-like texture and becomes mushy when overdone.
Cauliflower 'steaks'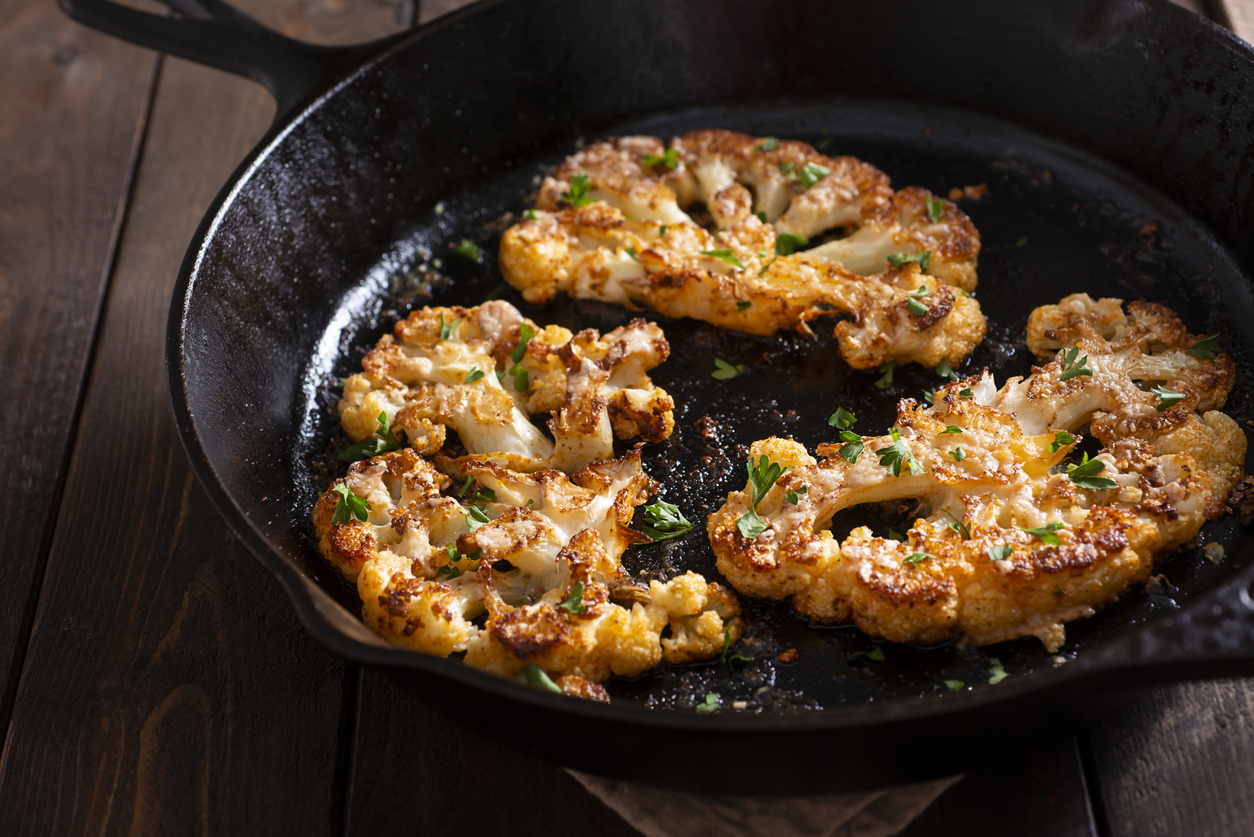 With cauliflower being such a tough compact vegetable, it can be cut into slices or 'steaks'. These can then be brushed with olive oil and fried over medium heat for 5 minutes on each side or until tender and golden brown.
Flavours such as turmeric and paprika may be added before cooking, or afterwards such as a squeeze of lemon or a sprinkle of chopped flat-leaf parsley. The 'steaks' can be crumbed and shallow fried and served with other vegetables or a salad. Toss the smaller florets in boiling water and cook to use for one of the recipes featured here.
Served in your favourite bowl or on your treasured dinner plate, these suggestions are sure to please. Pop cauliflower on your shopping list and give one of these recipes a go.
---
---
IDEAS does information so you can do life.