If you are supporting someone who lives with Sensory Processing difficulties, then explaining the need for good hygiene practices to "stop the spread" can be made easier with visual resources.
IDEAS has sourced resources to help you support someone living with Sensory processing difficulties. from washing hands to where to find social stories, and help with wearing masks. We hope these help make a difference in stopping the spread.
The below factsheets were developed by Sensory Spectacle in response to the COVID-19 pandemic and these and other resources are also available on their website. They offer practical tips to try and improve the experience.
For quick download -

Sensory considerations for washing hands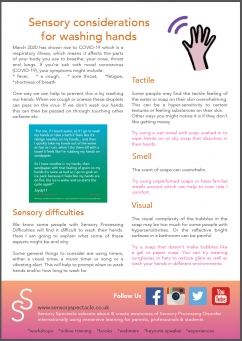 Activities for keeping our hands clean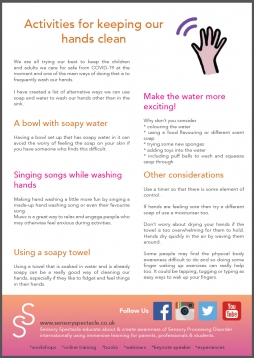 Harvard Medical Publishing has some tips around Helping people with autism spectrum disorder manage masks and COVID-19 tests. It outlines challenges and suggestions for what to do in each situation.
IDEAS has heard of parents helping children work with their sensory needs, by offering fabric masks in materials or colours/ designs that the children enjoy.
Other great tips include if the child does not like having the elastic around their ears, sew two buttons on their favourite hat and loop the elastic over the buttons. Rather than rest on the ears, this can add space between the ear and the elastic. They can wear their hat if they need to leave the house.
Social Stories, Posters and resources to help
Graphics, infographics, videos and posters you can use to help tell a story, produced by WHO are available for download here. They cover topics from handwashing, hotel quarantine, home quarantine, helping children cope with stress, parenting in the time of COVID-19, Mythbusters and workplace safety,
Autism Association of Western Australia also have a large collection of resources for download on their site developed specially for COVID-19. Social Stories, Tip Sheets, Visual Supports all feature.
For further reading see
What is COVID-19
Easy English COVID-19 Resources
Coronavirus Prevention - Why we stay home
Sensory Spectacle
Autism Association of Western Australia
---
IDEAS does information so you can do life.