Events on week 17-23 October 2022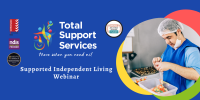 Monday, 17 October 2022 at 12:00 pm
-

12:30 pm
This month, the TSS Webinar 2022 series will answer all your questions about Supported Independent Living.
Wednesday, 19 October 2022
Wednesday morning discussion series! October - November 2022 CCS applies practical research from the disciplines of including but not limited to mindfulness, neuroplasticity, social neurobiology, emotional freedom therapy, nutrition, gastrointestinal health, and sensory regulation.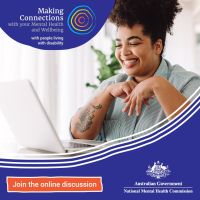 Friday, 21 October 2022 at 2:00 pm
-

3:00 pm
The National Mental Health Commission in partnership with People with Disability Australia would like to invite you to a Connections2022 online forum dedicated to people living with a disability.