Events on Tuesday, 16 May 2023
Events List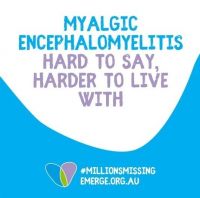 Friday, 12 May 2023
-

Thursday, 18 May 2023
May 12th is the Myalgic Encephalomyelitis/Chronic Fatigue Syndrome (ME/CFS) International Awareness Day. On this special day, we highlight how you can support the millions of people who suffer from ME/CFS. ME/CFS is a serious, long-term illness that affects many-body systems.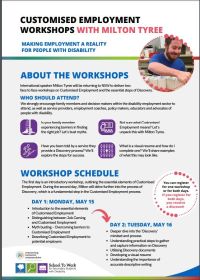 Monday, 15 May 2023 at 9:30 am
-

Tuesday, 16 May 2023 at 4:00 am
Don't miss this unique opportunity to hear from Milton Tyree, leader in the area of Customised Employment for people with disability!
With over 40 years of experience, Milton will be sharing his insights and experiences in how to successfully support individuals with disability into real, meaningful, well paid work roles in the community.
Tuesday, 16 May 2023
Learn to write clearly for the 44% of the adult Australian population who do not have the literacy to manage a range of day-to-day reading tasks. 2-day interactive training to create quality, best practice Easy English documents.