Events from Training category
Events List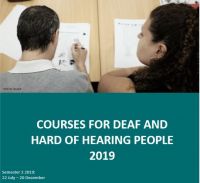 Monday, 22 July 2019
-

Friday, 20 December 2019
Develop your skills, we have course available to improve your skills and knowledge in different subjects. Our deaf trainers will work with you and support you with your study.
Wednesday, 4 December 2019 at 11:00 am
-

2:30 pm
The Self Advocacy Training aims to empower people from an Ethnic background with disability to advocate for themselves.
ECCV and DnD share a belief that the most effective advocacy comes from people with a lived experience and therefore disability advocacy is strongest coming from people with disability.
One day training course that will cover the following topics:
Know your human rights
Understand the NDIS and NDIS planning
Learn to speak for others and yourself
Thursday, 5 December 2019
-

4:00 pm
This seminar will provide attendees with practical, easy to implement ideas and strategies in their workplace in the area of clinical care provision.