Events on Wednesday, 9 November 2022
Events List
Wednesday, 09 November 2022
The Australian Disability Service Conference & Awards (ADSCA), hosted by One Community, endeavours to recognise both excellence and innovation in the disability service sector. ADSCA is unique in that it brings a wide range of service providers together to explore topical industry themes during the day and celebrate service excellence during the evening.
Wednesday, 09 November 2022
Wednesday morning discussion series! October - November 2022 CCS applies practical research from the disciplines of including but not limited to mindfulness, neuroplasticity, social neurobiology, emotional freedom therapy, nutrition, gastrointestinal health, and sensory regulation.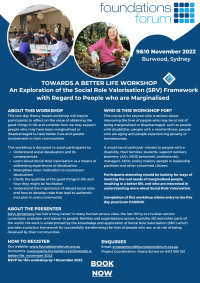 Wednesday, 09 November 2022 at 9:00 am
-

Thursday, 10 November 2022 at 4:30 pm
TOWARDS A BETTER LIFE WORKSHOP This two-day theory-based workshop will inspire participants to reflect on the value of obtaining the good things in life and consider how we may support people who may have been marginalised or disadvantaged to have better lives and greater involvement in their communities.