IDEAS was contacted by a customer seeking a daily social welfare check. IDEAS investigated and found a solution for the customer. Read how here: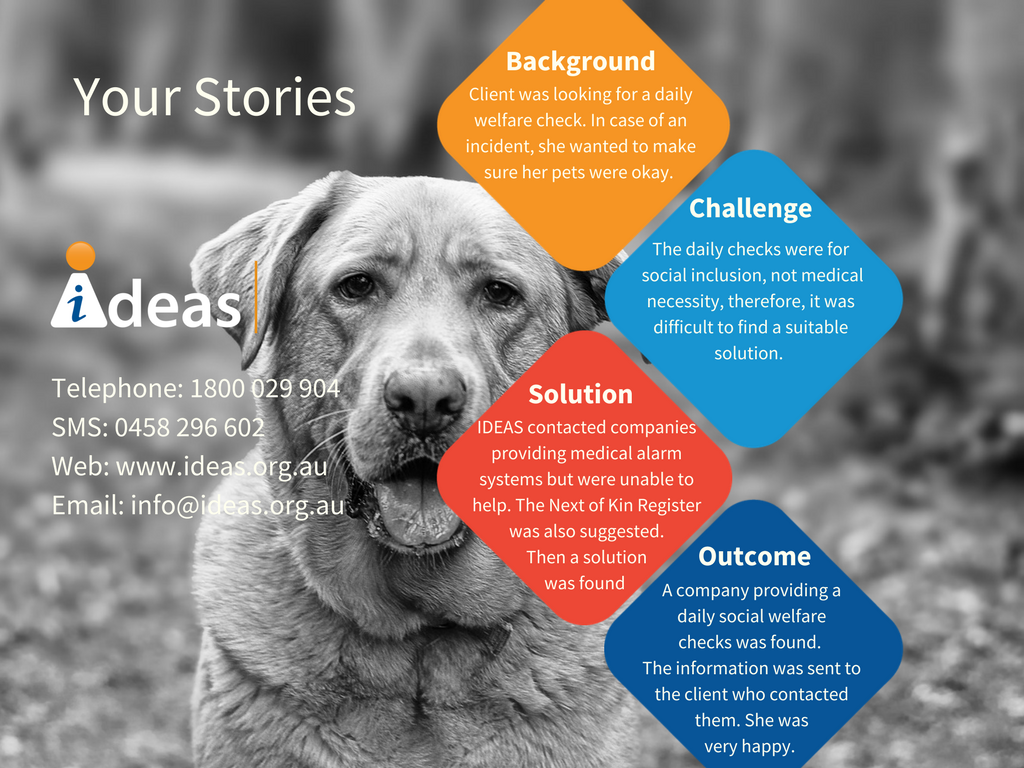 Background
The IDEAS customer was looking for a daily welfare check. The situation related to her dogs. She was worried about them in case she had an incident and nobody knew that it had occured.
By seeking a daily welfare check, she could guarantee that her pets would be okay in the event that she was not.
The Challenge
Daily welfare checks traditionally fall into the category of a medical situation. However, this request was more unusual because of the social inclusion, not medical necessity that was driving the need.
It was tricky to find a suitable solution.
The Solution
The customer contacted IDEAS and asked them for assistance with her request.
The IDEAS Information Officers contacted a number of companies providing medical alarms, however, they were unable to assist in this particular circumstance.
The team at IDEAS also located the Next of Kin Register, which, in other circumstances would have been appropriate; it just did not meet requirements for this enquiry.
The Outcome
IDEAS persisted and located a company that is able to provide daily social welfare checks.
The information was quickly passed on to the customer, who was thoroughly pleased with the information and relieved that there was a solution to her unusual enquiry.