For a child with disability and additional learning needs, it is advisable for parents and carers to meet with their school principal and the school's learning and support team with plenty of time for discussion, research and planning.
All schools have a team providing learning and support who work collaboratively with students, parents and carers, and other agencies when required, to meet the needs of each student.
Depending upon the circumstances and diagnoses, it is a good idea to contact the preferred school to discuss the needs of the child enrolling. If there are physical changes required to allow for access or mobility such as ramps being built or doorways widened, then the more time for preparation the better.
---
The first meeting
Enrolment
Heading to Secondary School
Programs regarded as best practice
The people who can assist with a student's transition
Student support group
Communication with the school
Individual Learning Plans
A policy of inclusion
Practical support for a student at school
State and territory education and disability contacts
---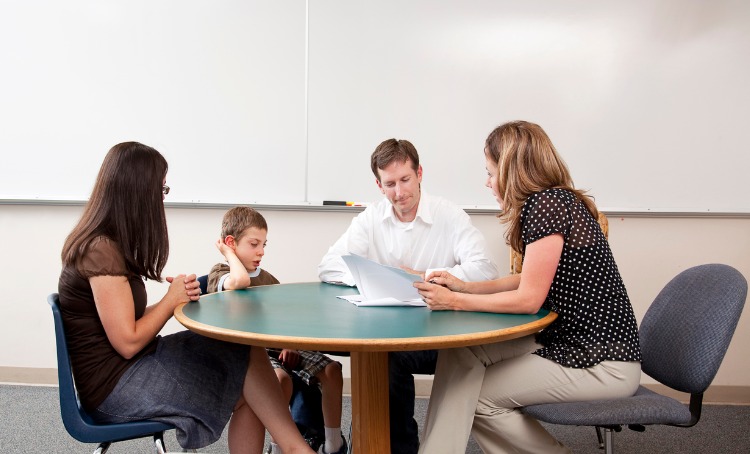 ---
The first meeting
When approaching a school for the first time and meeting with the principal and support team, parents or carers should take with them:
Information relevant to their child such as medical reports, therapists reports, other information provided by other agencies or organisations.
Information and details on particular resources or equipment that the child uses for day to day activities.
---
Such items can assist the school in making suitable decisions that will match the child's individual learning needs.
In NSW Local School Services teams provide advice about the transition to school for children with disability and additional learning and support needs. Local teams can be contacted on 131 536 from anywhere in NSW.
Enrolment
For students with disability and additional learning needs enrolment arrangements are the same as for all students. Local schools are able to provide information about enrolment procedures to parents and carers.
In the NSW public school system, students with a confirmed disability may be enrolled in any one of the following:
Mainstream classes (subject to enrolment procedures)
Support classes in mainstream schools (subject to placement panel procedures)
---
The most suitable schooling option will be determined in consultation with the principal and the school's Learning and Support Team. Factors such as your choices, your child's specific additional learning and support needs and proximity to a local specialist will be considered.
A process known as the placement panel is used to determine where a child is enrolled in a support class or a special school.
In addition, to support classes and special schools, the following services are available in all public schools:
students who experience difficulties in basic areas of learning and behaviour are supported through learning and support in their local school.
the integration funding support program is a targeted support program for eligible school-aged students with confirmed disabilities enrolled in a mainstream class and attending on a full-time basis.
itinerant support teachers provide support for students with hearing and/or vision impairment and their teachers.
---
Each mainstream public school in NSW has a learning and support resources package (also known as low-level adjustment for disability) which provides the school with a specialist teacher and an allocation of flexible funding as part of the school budget.
With changes over time and general differences with the mix of students attending the school, no one school is the same in what they provide in the way of learning and support.
The allocation of resources to provide support where and when it is needed is determined by school principals who with specialist teachers can make informed decisions.
The pooling of resources is a positive way to engage additional specialist teachers, school learning and support officers as well as developing support programs that can then be shared across schools.
Regular reviews are done with regards to the allocation of specialist teachers and the funding provided for support programs. A school's enrolment and the number of students with disability and additional learning and support needs are included in these reviews.
In close consultation with students, their parents and carers, reviews of programs and appropriate adjustments are made to provide the most effective support.
Heading to Secondary School
When planning for students with disabilities to transition to secondary school (high school) the following points need to be considered:
the nature of the student's disability
the educational setting and how a student's disability may impact on the access and participation of the student
what was modified in the primary school to accommodate a student's disability
how existing transition programs regard the individual needs of the student, their family and the enrolling school.
PSDMS (Program for Students with Disabilities Management System) funding
---
Programs regarded as best practice
When students transition from primary to secondary school, the programs with best practice have the following features:
Are begun well in advance of the time of transition
Are person-centred and tailored to the individual needs of students
Collaborate with and involve the student and parent/ guardian or carers
Provide information to the student and their parent or carer so they can make an informed choice about future options with regards the student's education
Engage a Transition Coordinator whose job task it is to communicate to all parties concerned the relevant aspects of the transition planning process and provide support to the students and parents or carers.
---

---
The people who can assist with a student's transition
As previously mentioned, a Transition Coordinator who is trained and experienced can provide immense support to and resources for a student and their family as they embark of the process of transition.
At home:
The student's parents or carers
An older sibling
---
At primary school:
The Year 6 teacher
Assistant principal and/or principal
Transition Coordinator
Education support officer
Student support services
Visiting teachers
---
At secondary school:
Year 7 Coordinators
Year 7 teachers
Assistant principal and/or principal
Transition Coordinator
Education support officer
Student support services
Visiting teachers
---
Student support group
All students with a disability are advised to have a student support group (SSG). This plays an important role in the planning and monitoring of a student's transition from one school to another.
A resource called Transitioning from Primary to Secondary: Supporting students with additional or complex needs that arise from disability provides full guidelines on supporting students with disabilities to move positively from primary to secondary school.
Schools need to be mindful of how they engage with students (and their families) who have complex transition needs. Some of the following suggestions may assist:
Helping families to see how they can assist in the transition process of their child or sibling
Keeping parents and carers up to date with their child's progress
Understanding the developmental needs of students
Identifying and accepting the impacts felt by a student moving from primary to secondary school
Being mindful of the school environment especially concerning physical and mobility issues such as stairs and doorways
Ensure there is clear signage and be sure school staff are identifiable with a badge or coloured shirt especially on orientation days
Provide opportunities for the student and their families to visit the school and meet with teachers before school begins
Ensure staff are given professional development so they can better understand the additional needs of the student
---
Communication with the school
It is important for parents to be involved in the communication process of their child's transition to another school. Whether there is a specific learning disorder diagnosed or the display of learning difficulties, it is important for parents and teachers to have open communication and be active in providing information about their child's progress.
The following pointers may assist:
Providing the teacher or year advisor with information about their child's difficulties and the strategies that have been effective
Being an active participant in their child's education
Offering the teacher positive support paths to create a united front for the student's learning
Making an appointment when there is something to discuss and not just arriving unannounced at the school
---
Helpful information for the school to know:
A student's formal assessment results that may affect their learning
Tutoring, therapy or interventions done in the past or currently being done
Family or life events that may affect a student's learning
Relevant medical information
The strengths and areas of interest of a student especially those that may be helpful in engaging them in activities
The specific areas of difficulty and activities where support may be needed
Strategies that are known to work for a student or ones a previous teacher or therapist indicates work well
Any upcoming appointments or regular therapies that will occur during school hours
---
If a student is changing schools then this type of information is important to have a smooth transition. Keep in mind the availability of this information to relief or casual teachers so that they can offer the right support.

---
Individual Learning Plans
A document that sets out a student's unique learning requirements is an individual learning plan.
It may include the following information:
Existing skills
Learning needs and specific goals that can be accurately measured
Any adjustments or curriculum modifications
Personalised strategies and resources for developing skills and goals
Strategies to develop a student's resilience and if necessary, social skills
---
Additional information included may be reports and assessment results from professionals who work with a student. This will ensure that all teachers have knowledge of a student's specific strengths and difficulties so that the expectations of a student are both realistic and high.
Depending upon what state or territory it is, these plans may be known by a different name.
Other support plans may be developed for a student and these might include:
Personal care needs such as assistance with toileting or at mealtimes
Medical needs such as tracheostomy care, tube feeding or medications
Other needs such as behaviour support or help with social interaction
---
A plan of any sort should make sure that a student's needs are managed in a safe, dignified and respectful way. They should be clear about:
What needs to be done
When it needs to be done
Who needs to do it
Where it needs to be done
---
A policy of inclusion
A written policy of inclusion is mandatory for all schools so that they can show that difference is valued and accepted, with high expectations of all students including those with disability.

---
Practical support for a student at school
Transport support
Local bus routes access many schools or there is an arrangement with a bus company serving the area. Depending upon the state or territory, if there are transport options such as buses unavailable or inappropriate, transport by way of taxis may be provided.
In most states and territories, there is free bus transport for students living in regional areas. Some independent and Catholic schools have bus services for all students.
Transport costs may be funded through the NDIS or the education department of a state or territory may offer a travel allowance.
The Assisted School Travel Program (ASTP)
This program plays a major role in meeting the needs of eligible students with disability by providing free specialised transport to and from school where parents and carers are unable to provide or arrange transport for the student either fully or in part.
Around 3,000 individual transport services are provided daily through service providers contracted to this program transporting over 10,000 students free of charge throughout NSW.
More information about this program can be found here
Out of School Hours care
Funding is available for those services that offer Out of School Hours (OOSH) care so they can develop inclusive environments for children with disability. The costs of extra staff, resources, training or equipment may be covered by this funding.
State and territory education and disability contacts
More information about school support and funding for students can be obtained from the education department of a particular state or territory.
ACT Department of Education - Disability education
NSW Department of Education - Disability, learning and support
NT Government - About special education and disability
Queensland Department of Education and Training - Every student with disability succeeding
South Australian Government - Learning plans
Tasmanian Department of Education - Students with Disability
Victorian Department of Education - Support for children with special needs
WA Department of Education - Children with special learning needs
---
IDEAS does information so you can do life.