Like many older people, I have a mobility problem. I can walk, but only slowly and for limited distances. That means I miss out on many adventures when I am travelling and I'm limited to visiting places that are easily accessible by hire car or public transport. That rules out most gardens, history walks through towns and much exploring of cities.
After much badgering by my daughters and wife, I bought a Luggie Elite mobility scooter, powered by an electric motor and battery, for my recent visit to Norway and Scotland.
The scooter is designed to fold up into a compact shape and weighs only 25 kg. It can be carried easily in the boot of a car and best of all in the hold of an aircraft. There are several other makes of mobility scooters that do the same thing. Some actually fold themselves up at the press of a button.
Most airlines will carry mobility aids, such as electric wheelchairs and scooter free of charge, but impose conditions.
You can't just rock up at the check-in desk with a scooter. You have to get approval from the airline first. This can involve some serious negotiation. Generally, the battery has to be removed and carried in hand luggage and the airline has to know the weight and overall dimensions in advance.
Airport security tends to look askance at the batteries and it is best to carry written authorisation, especially when dealing with security staff who have limited English. I found that 'electric wheelchair' was a better-understood description than 'mobility scooter', and 'scooter' sounds like a child's toy.
My first overseas trip with my scooter went well. Qantas, Qatar and KLM all agreed to carry my scooter after some time spent getting to the right department for approval. Loading at Perth was no problem and the scooter arrived at Oslo along with me, my wife and other baggage. But then the fun began.
Oslo pavements have spoon drains, in which small scooter wheels stick, and often excessive sideways slopes.
On my first tentative trip around the city, my scooter rolled over going around a corner leaving me holding on to a signpost to prevent me from falling into the gutter. I was stuck – unable to let go – when two kind Norwegians in a nearby café saw my predicament and hauled me back upright. "Takk, mange takk og tusen takk," and I was on my way.
The following day I explored Oslo's main shopping mall, the grounds of the royal palace and the Peace Museum, followed by a cross-fjord trip and long ride to the Viking Ship and the Kon Tiki museums, then back to my hotel for a recharge.
In Bergen, I was able to explore the city and even take it up Mount Fløyen overlooking the city on the funicular railway.
In Scotland, we carried the scooter in the boot of our hire car. This allowed me to take it out and explore towns, gardens and historical sites and to travel further afield in search of restaurants. I was even allowed to ride my buggy through a stately home and a church on one occasion.
I successfully negotiated a walk through Loch Garten Osprey Centre's pine forests at Nethy Bridge in spite of uneven ground and protruding roots, only falling off when I attempted to turn round on a soft sand patch and head back to the car park.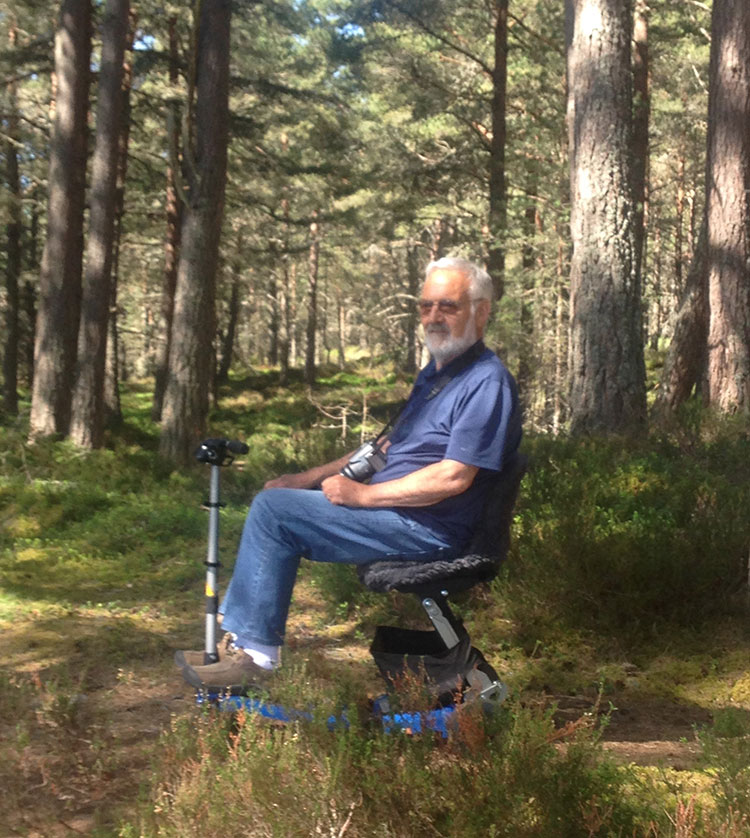 Frank exploring a pine forest at Nethy Bridge in the Strathspey area of the Scottish Highlands. Abernethy Forest is famous for its ospreys that visit every summer to breed, and the largest remaining remnant of the ancient Caledonian pine forest in Scotland.
The only disadvantage is that my mobility scooter tends to rush down slopes and cannot tackle very steep uphill slopes without my reluctant wife or a kindly bystander giving me a push. It also proved difficult to use in a crowded area without danger to other pedestrians. However, I did not run over anyone.
The other problem was the airline baggage handlers who clearly ignored the 'fragile' warning and broke off two scooter wheels and those of the carrier bag.
In spite of the hazards, I'm convinced that I won't leave Australia again without my mobility scooter. I'm uncertain if I will be able to travel as I get older and lose more of my limited mobility, so I'm seeing as much of the world as possible until then.
By Frank Smith
About the Author
'I have always travelled, and still worked part-time at 79 to earn money to travel. As an intellectual exercise, I usually try to learn a little of the language spoken in the country I am to visit, although my command of Norwegian is very limited. I have been disabled since 2003, the result of stenosis damaging my spinal cord. I was determined not to let my disability get in the way or to prevent my wife from enjoying travel.'
Related resources
Lonely Planet: Accessible Travel Resources, 3rd edition
---
IDEAS does information so you can do life.