Canberra's first Light Rail route is now open. The service travels from Gungahlin Place to Allinga Street via EPIC and Dickson Interchange.
You can use a MyWay Ticket or a paper ticket. MyWay is a smartcard ticket that you tap on and tap off to pay the fare. MyWay cards can be registered online so that you can check up and recharge your balances, as well as protect your balance if your card is lost or stolen. Transport Canberra's ticket vending machines are available at Gungahlin, Woden, City and Tuggeranong major bus stations, all light rail stops and the Canberra Airport. Passengers are able to conveniently top-up their MyWay card instantly for bus, and light rail, as well as check their MyWay balance or purchase a single or daily adult or concession ticket using these machines.
The machine allows passengers to select from four languages: English, Arabic, Chinese and Italian. Whilst you cannot purchase a MyWay card from these machines, passengers are advised they are still able to purchase a MyWay card as well as top up their MyWay card from MyWay recharge agents. There are currently 34 MyWay recharge agents across the city. A map is available on the Transport Canberra Website, and contact details are listed at the end of this article.
Ticket vending machines are touch screen and user-friendly, allowing a simple and fast transaction where you can purchase more than one single or daily ticket per transaction or top-up your MyWay card instantly. The machines allow payment using cash or PayWave (MasterCard and Visa only, with a limit of up to $90 in one transaction).
The ticketing is fully integrated with the bus ticketing system.
Average wait times are 15-minute intervals for light rail. During peak times, the service will run between 6 – 10 minutes.
The light rail network, including stops and vehicles, is fully accessible and complies with the Disability Standards for Accessible Public Transport 2002.
There are dedicated areas at stops and onboard for mobility aid users, and red priority seating for people with mobility needs.The Light Rail Vehicles (LRV's) include 12 priority seats and 2 wheelchair spaces. Handrails and grab rails and a 100% low floor are part of the accessible features.
CMET (Canberra Metro Operations) Customer Service Officers are available to assist.
You can contact Transport Canberra by:
Information Sourced from ACT Public Transport Light Rail
---
This article was originally published in the Newsletter of IDEAS January February 2020 edition. Download a copy below to read more great info! IDEAS does information so you can do life.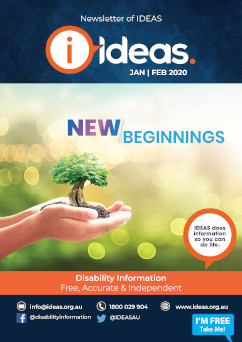 Newsletter of IDEAS - Jan Feb 2020 WEB.pdf