Events List
Tuesday, 14 June 2022
World Blood Donor Day, celebrated on 14 June every year, serves to raise awareness of the need for safe blood and blood products and to thank voluntary unpaid blood donors for their life-saving gifts of blood.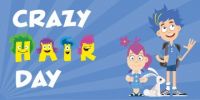 Friday, 29 July 2022
Ready to go crazy and raise awareness about cystic fibrosis? Crazy Hair Day is an annual fundraising event held in schools across Australia.