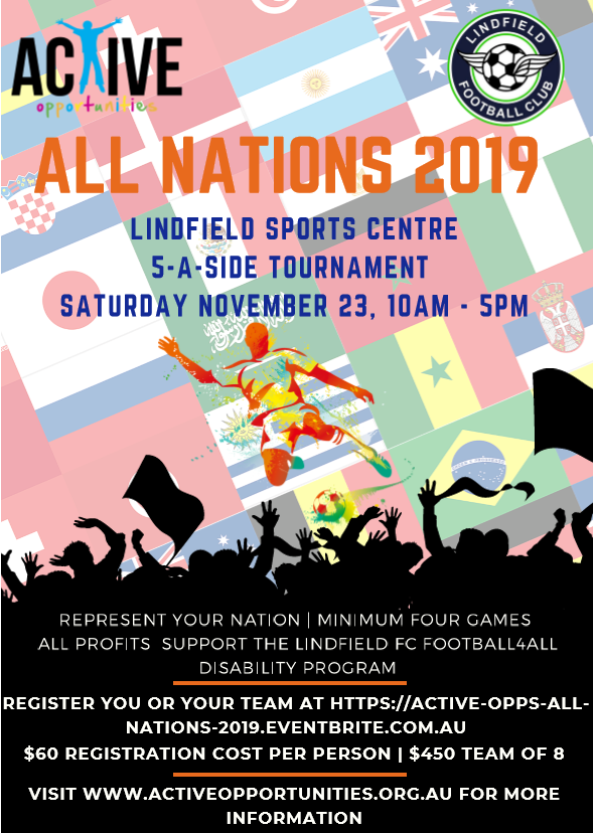 Lindfield FC collaborated with local charity, Active Opportunities Inc, in May 2018 to deliver a football program for children with a disability each Saturday morning at the Lindfield Sports Centre. All funds raised will be invested to support the future growth and sustainability of the program, through the purchasing of equipment, playing strips and coach fees.
Players must register as individuals for the All Nations tournament, nominating to play in a team of their original heritage in a fun, 5 aside football tournament. The tournament aims to bring together members from across the Lindfield Football Club to compete in an enjoyable day of football, whilst raising vital funds for Lindfield FC's newest program.
Each player will receive a fully customised playing shirt to be worn on the day and kept. You will be requested your shirt size upon registration.
Competition format
Teams will play a minimum of four games, each of 20-25 minutes in length
The tournament will consist of a Group Stage. Post Group stage, the tournament will be split, with the top half competing for the All Nations Cup, and the lower half, the All Nations Plate.
Quarter final, Semi-finals and Grand final (for Cup and Plate)
Tournament details
All players must be 16 years and older
Open to male and female players
Players must nominate a nation of origin they wish to represent upon registration.
If you wish to play with family and friends, you will be asked to nominate these upon registration.
Players will receive a fully customised playing shirt to be worn during the tournament
Registration must be paid in full, with close off date Wednesday 9th October, 2019.
Cost
Early Bird team special - $450 team-entry fee. 8 players recommended (open until Saturday 14th September, 2019)
Regular entry fee - $60 entry fee (16th September onwards)
All profits will be invested to the Lindfield FC / Active Opportunities disability football programs