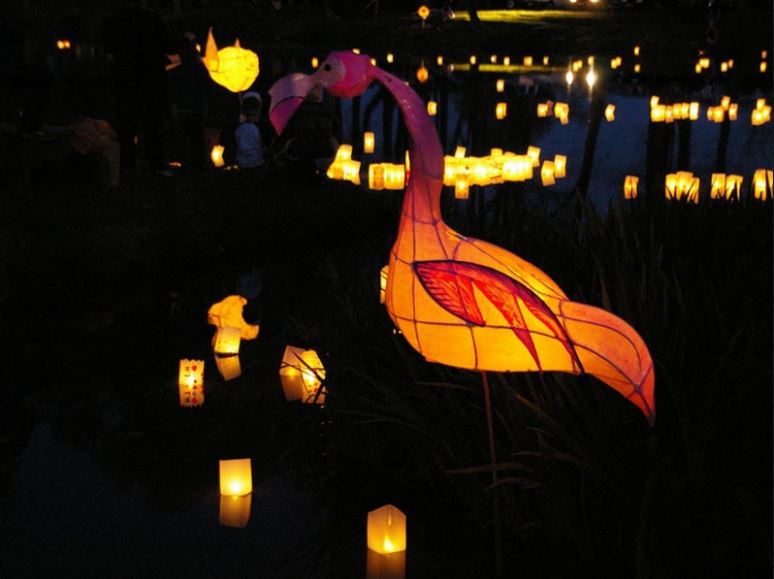 Lanterns on the Lagoon is a community based, not for profit and volunteer run festival. It has become a permanent fixture on the Tumut region's calendar since its inception in 2011. It is held every two years on the Saturday closest to the Spring Equinox . In 2019, Lanterns on the Lagoon will be held on Saturday 21st September.
Lanterns on the Lagoon is a celebration of the season, rejuvenation and new life, of community and sustainability and of culture and creativity.
There are four main elements to the day:
an outdoor sculpture competition
live music and entertainment
multicultural food, artisan and local makers markets
the lanterns themselves, lit and set afloat as the sun sets.
The festival is held at the Rotary Pioneer Park via Elm Drive, on the banks of the Tumut River in Tumut, NSW. Tumut is a picturesque township at the foothills of the Snowy Mountains in the Snowy Valleys Council area.
PLATFORM is housed in a purpose-built, portable, accessible 'space' adapted from a shipping container. Its unique arrangement allows the container to be configured as a sensory space, chill out area, exhibition space or small stage. The project will travel to ten festivals across the Riverina over an 18-month period.
The project will feature a sensory-art instillation by Sydney-based artist, Bliss Cavanagh, whose designs have been exhibited at the Maitland Regional Art Gallery, Noosa Regional Gallery and Australian Museum. Bliss' personal experience of living with Tourette syndrome plays a substantial part in her work and motivates her to create spaces for others living with disabilities.
EZY- DUN Portable accessible toilet and full adult changing facilities including a change table with a hoist. Part of the PLATFORM project, touring community events across the Riverina.