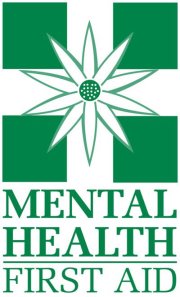 Rotary Mental Health First Aid Course
Want to help the Mental Health of your Community?
This 2-day 12-hour Mental Health First Aid Course teaches members of the public first aid skills for helping people experiencing a mental health crisis, mental health problems or the early onset of mental illness.
After successful completion of the course and online assessment, a 3-year Certification as a
Standard Mental Health First Aider is available. See https://mhfa.com.au/
DATES: 2019 22 & 23 February 24 & 25 May 2 & 3 August 22 & 23 November
TIMES: 9:15am - 4:00pm Friday / 9:00am - 4:00pm Saturday

VENUE: Vonnie Young Auditorium, Bowen Library
Floor 1, 669-673 Anzac Parade
Maroubra Junction NSW 2035
To Book: Click the "BOOK NOW" button above. Places are strictly limited - book early
Facilitator: Katrina Bettington https://mhfa.com.au/instructor/1782
Special Subsidised Cost for 2019: $160.00. Similar courses are offered elsewhere for over $350, but this non-profit course is offered to you by the Rotary Clubs of Maroubra and Randwick as a service to the community
Rotary Contact: Ian Paterson 0411 697 606 (text message please)
Email: This email address is being protected from spambots. You need JavaScript enabled to view it.

Sponsored by the Rotary Clubs of Maroubra and Randwick. Use the club locator at http://www.rotary.org to find your nearest club. Visit us to discover how you can help your community.