Events in Narre Warren
Events List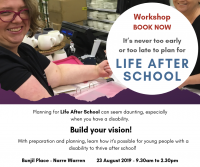 Friday, 23 August 2019
-
It's never too early or too late to plan for Life After School.
Friday, 23 August 2019
-
Planning for life after school can seem daunting, especially when you have a disability. The options may seem slim and limited, however with vision, preparation and planning it's possible for young people with a disability to thrive after school.
This workshop aims to assist you to plan and prepare for life after school.