Events from Awareness category
Events List
Monday, 25 November 2019
-

Tuesday, 26 November 2019
Training for professionals, carers, family & friends of individuals who have Self- Destructive Behaviours in our Community. Mental Health - Walk the Talk!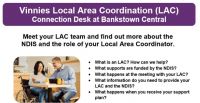 Tuesday, 3 December 2019 at 11:00 am
-

2:00 pm
Meet your LAC team and find out more about the NDIS and the role of your Local Area Coordinator.