On Tuesday 12 November 2019 there were over 300 new fires across New South Wales, especially in the Mid and North Coast regions... As the temperature hit the high thirties in some parts of the state, the catastrophic fire danger warning was issued in the Greater Hunter, Greater Sydney and Illawarra/Shoalhaven regions.
The "catastrophic" warning level was introduced a decade ago in the aftermath of the 2009 Black Saturday bushfires which killed 173 people and destroyed thousands of properties. This is the first time the warning has been used in the Greater Sydney region. Hundreds of schools were closed as the fires swept across the North, Mid-North Coasts and Hunter and Sydney regions, prompting the Premier of NSW, Gladys Berejiklian to declare a seven day State of Emergency for NSW.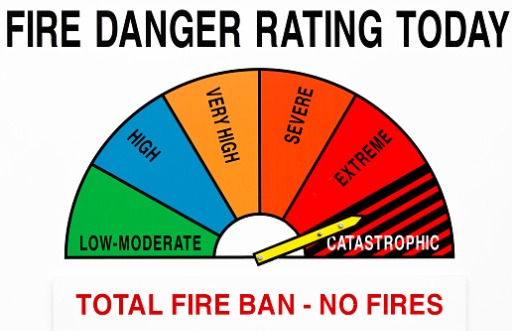 This bushfire emergency which has raged across both New South Wales, Queensland and Western Australia this week has been unprecedented in its ferocity and widespread nature, pushing emergency services to their limits. As this is only the beginning of what promises to be a long and disastrous bushfire season, people with disability need to plan early and be ready to leave in the event of an emergency arising in their area.
Bushfire in Darawank, NSW (Photo by Martin Von Stroll)
According to Sarina Kilham, Research Fellow for Disability Research and Policy at the University of Sydney, research shows people with disability are twice as likely to die or be injured as the general public during a natural disaster. There are significant gaps in current approaches to reducing the risk for people with disability during natural disasters, including bushfires. Auslan interpretations and closed captions are made available during government and emergency service broadcasting, however, this is not across the board and many emergency notification systems, including radio and sirens, are inaccessible.
The Rural Fire Service has implemented live online tools such as the Fires Near Me app and website to keep the community informed of impending emergencies and the need to evacuate. These tools are fantastic but, with the unprecedented number and sheer volume of fires burning across the state, how do we make these services accessible to people with sensory disabilities?
People with disability, their families and carers, must take it upon themselves to make a bushfire survival plan and be prepared in the event of an emergency. The advice from emergency services and Government is to leave early.
You can read our blog on Fire Safety including making a bushfire survival plan or contact the NSW Rural Fire Service on the Bushfire Information Line on 1800 679 737 (NSW RFS) or visit www.rfs.nsw.gov.au
To report a fire emergency, call Triple Zero (000). If you have a hearing impairment Internet Relay – ask for Triple Zero (000). Captioned Relay – ask for Triple Zero (000). SMS Relay – write text and include 000 in your first message. Ordinary phone – dial and ask for Triple Zero (000). – dial 106.
Read more on Emergency calls via the National Relay Service
Bush Fire Information
Listen to local media, especially your local ABC Radio.
Check social media like NSW Rural Fire Service Facebook Page.
Bush Fire Information Line 1800 679 737If you are deaf, hard of hearing or have a speech impairment, TTY users phone 1800 555 677 then ask for 1800 679 737. Speak and Listen users phone 1800 555 727 then ask for 1800 679 737. Internet relay users connect to the NRS then ask for 1800 679 737.
---
IDEAS does information so you can life.